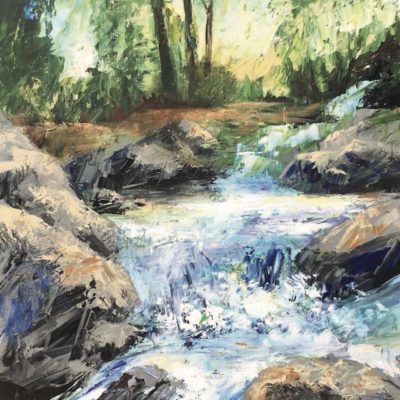 Acrylic Painting with Bruce Marion – Streams – for Adults
Aug 7, 2021 @ 9:00 am

-

4:00 pm
In the Flow
Learn to paint this beautiful and serene mountain stream, in a loose, impressionistic style. Bruce will show you how to create chunky, natural-looking boulders with palette knife, how to create translucent, moving water that sparkles as it splashes along its course, how to build depth in your painting by softening colors and edges in the distance, and how to offset the cool tranquility with some sunlit backlight, to bring the scene to life.
All painting materials will be supplied for this class. Bring an apron or clothes you don't mind getting paint on.
What students are saying:
"Thank you so much for the wonderful art experience! I have taken several workshops during my art journey of the last 20 years, but never have a been a part of one quite like yours! Your talents, your organization, your generosity of ideas, your enthusiasm and kindness, have left me incredibly inspired. I feel like my journey is taking a very different and positive path because of you."- Linda
About Bruce:
Classically trained, Marion received his BFA in 1978 from the prestigious Art Center College of Design in Pasadena, where he studied with world-renowned artist Pat Nagel, and Lorser Feitelson, the father of Post-Surrealism. He taught at the Otis Parsons Institute of Art in Los Angeles, before moving to Arizona in 2000. His passion to keep art alive in the next generation has led to several grants to implement month-long art programs for Arizona elementary schools. In 2015, he led a two week art workshop tour of Greece, followed by another workshop tour of Italy in 2016. He was awarded a major public commission for Sam Houston State University; the ten large works now reside in the new Social Sciences and Humanities building at the Texas college. Marion's art is represented in nine galleries across the United States and through his online program at www.BruceOnArt.com, he teaches art students across the US, Canada, and England how to improve their art while having an incredible amount of fun along the way!
Marion lives in Phoenix, Arizona with his wife, Lee, a highly accomplished glass artist (leewrightglassworks.com) as well as his dog and two cats.