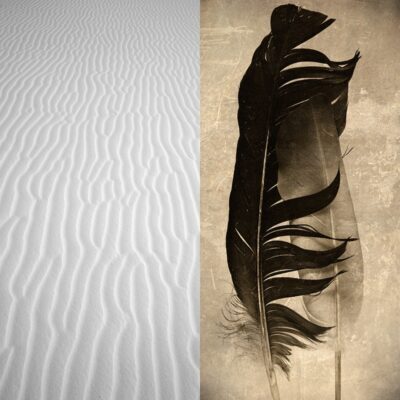 Adam Williams + Grant Fergeson gallery show
03 | 10

-

03 | 31
Join us for the opening reception on Friday, March 10, 5 – 7 pm
The show will run March 10 – March 31.
"Reverence: Portraits of Nature's Mortes" by Adam Williams
Reverence: Portraits of Natures Mortes is a photographic series that highlights the details of the natural world, primarily from the mountains and wild that surround where I live in Colorado, with the occasional piece from travels elsewhere.
This work is a creative and spiritual practice of noticing the often overlooked, of spending time with it. It is a practice of seeing with intention, openness and curiosity.
In each of these natures mortes (still life artworks) there is a silent story. How did they come to bear the textures and weathered marks, the hints of life and death? Ancient stones. Sun-bleached bones. Remnants of a being that has come to rest. What are in these silent stories? What do you see, feel and come to understand within them?
Reverence is the challenging work of being present, noticing and revering the simple that surrounds us.
It's work that started as long ago as 2004, when I started collecting pieces of nature, feeling connected to the pieces but with no "project" in mind. Those pieces eventually would lead to Reverence. I started photographing and intentionally putting together the series in 2018.
View more of Adam's work here.
"In A Different Light – Perspectives in black and white and in between" by Grant Fergeson
If there ever was a time when seeing things from different points of view was important, this would seem to be one. Visual information particularly is thought to impart truth, over mere words which are assumed to have bias and invoke mental imagery unique to the interpreter.  Yet, we, the individual recipients of visual information, also bring our own perspectives with us to the totality of our experiences and sensory inputs. The recognition and appreciation of these different perspectives are vital to moving forward as a community. Our world faces many challenges as it transitions from its 20th to 21st century self. Generations new and old, growth pressures, conflict, media silos, intrusion of global dynamics, and climate are just a few of these, and to move forward positively we must try to relate to others and hear their voices.
These images are diverse and objective in nature, but each contains my highly subjective thoughts and feelings at the time. As such they are all intended to be without a didactic or rigid interpretation, relying instead on the viewer to bring their unique point of view. If we appreciate that each of us looking at these images have different reactions and emotions, then perhaps we can appreciate that our diversity will also apply to all our challenges, and encourage us to listen, perhaps long enough to understand one another.
View more of Grant's work here.