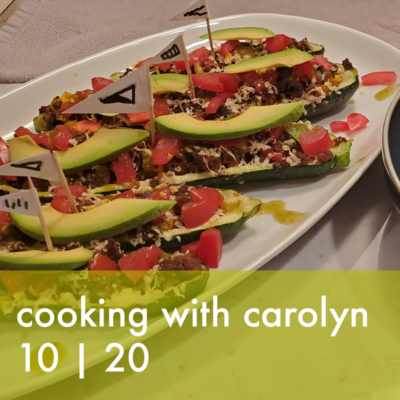 Cooking with Carolyn
Oct 20, 2020 @ 5:30 pm
It's a Zoom Cooking Class!
Zucchini!
Join us for cooking with Carolyn, a Zoom Cooking Class that helps support the Center for the Arts. This month, we will be focusing on incorporating zucchini with Vegetarian and Meat Taco Zucchini boats and a fresh Zucchini salad. Just to make it more interesting, we are adding a nutrient-dense moist Chocolate Zucchini Bread that you can enjoy for dessert or breakfast! Instructor Carolyn de Groot is a Holistic Nutrition Consultant and founder of Lively Life, and recipe creator.
Come join us, and grab a drink. Aaron Tomcak of Mountain Spirits Liquors has shared his favorit margarita recipe that you'll receive when you sign up.
Instructor: Carolyn de Groot
Date: Tuesday, October 20, 2020
Time:  5:30 – 7:00 p.m.
Cost: $10 + a donation the Center per class