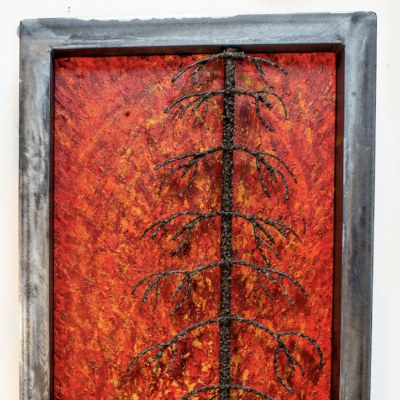 "Fire" by Debby Flug Artist Reception
Nov 12, 2021 @ 5:00 pm

-

7:00 pm
PLEASE NOTE:  Proof of vaccination or a negative COVID test must be shown for entry to events at the Center.  See our current COVID policy HERE.
Join us in celebrating Flug's dynamic exhibition "Fire," composed of found metal welded sculpture finished with acrylic, oil, and string. Enjoy signature art inspired cocktails, sushi from the Divvy, live music from Coal Creek Connection, and enjoy a very exciting fire dancer performance!
ABOUT THE FIRE SERIES:
The Fire Series
For 18 years the Basalt mountain ranges that backed my property served as my primary stomping grounds for hiking, biking, horseback riding, snowshoeing, cross country skiing, and snowmobiling. In 2018, a fire was started at the Basalt Firing Range by a couple who were shooting tracer bullets in broad day light while Colorado was in stage three fire restriction due to drought and high winds. As a result of this natural disaster my life changed drastically for two months; I stayed at home with my truck and trailer loaded up with important papers, art, and clothes- ready to leave at a moment's notice if we were ordered to evacuate. The smoke was so intense and suffocating that all outdoor activity was ordered to cease.
At 8:00AM every morning the helicopters would begin endless trips back and forth carrying buckets of water swinging precariously at the end of a long tether. Then the big 747's would follow with bellies full of red retardant, circling overhead low and slow like a vulture. As the choppers came in flying so haphazardly, we could see that often the brave pilots were women. We would frantically wave and sometimes they would see us and salute back. We all felt connected to the fight against this fire which was dubbed the Lake Christine Fire.
I began the Fire series in the Fall of 2018, knowing I would combine paint and metal to explore multiple iterations of flames, with the hopes of bonding complex emotions into metal. In February of 2019, I had the unique opportunity to go into the burn scar around Basalt on snowmobiles to see first-hand the devastation on the land, and to photograph the trees that were still standing strong against the pristine snow. These images became the inspiration for the 3-D abstract trees that are incorporated into the mixed media paintings; thus, the idea of the metal being "married" to the paintings became the underlying premise of this body of work.