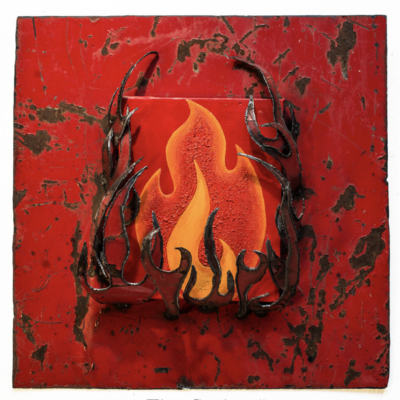 "Fire" by Debby Flug
Nov 10, 2021 @ 10:00 am

-

Dec 3, 2021 @ 4:00 pm
PLEASE NOTE:  Proof of vaccination or a negative COVID test must be shown for entry to events at the Center.  See our current COVID policy HERE.
Join us on November 12th in the Kinder Padon Gallery at the Center for the Arts to celebrate the exhibition "Fire". Please stop by between 5:00-7:00P.M. to enjoy signature cocktails, sushi from the Divy, and an exciting fire dancer performance!
ABOUT THE ARTIST:
When I make art, I have a preconceived image and concept that I want to materialize for myself; it's an exciting challenge to see if I can really make what I have imagined and to have the knowledge of the materials needed to create the idea I want to express. I find it equally important to "say" something about how I perceive the world I live in- this is the passion and desire behind what I create.  For instance, this new body of work I am currently working on, "Fire", is from my vivid experience regarding wildfires that have ravaged our state, country, and the globe.   I like to work large scale primarily for the invigorating act of standing, lifting, and moving around a piece. This constant movement energizes my spirit and wakes up my brain which allows and enables me to make spontaneous and creative decisions. I am drawn to the idea of "Big" because of where I have lived during my 67 years on this earth; Texas, Michigan and her Great Lakes, New York City, and finally home to Colorado with her magnificent big mountains, canyons, rocks, plains, back roads, mining history, deserts, and alpine beauty.
I see art in almost everything.  The great artist, Jasper John, is credited with saying:
"If art is, then everything is art…"
I see my art and my process constantly merging with the sentiment in that statement. My predominant inspirations are nature and the human figure.  And life at large: politics, environment, injustices to man and nature, the beauty of the world around us and in our souls. I try to only hint at reality or hone my focus on a small, detailed part of nature or the figure. There should be no rules in the realm of art, whether it be music, written words, dance or visual. Absolutely no rules on what to see or how to think about it. I am intoxicated by art; visually stimulated by vibrant colors, the smell of turpentine and oil paint; the earthy smell of hot metal bending, twisting, welded together for sureness and the beautiful sound of a good weld (like bacon frying).
The entire process of what materials I choose to make art with makes me constantly inspired to begin the next piece. Color is my friend and metal my lover; and I want to merge the two separate mediums of paint and metal into a marriage, where they must speak to each other, belong to each other, and make that beautiful moment together. If that marriage is fostered between the materials, then my job is done, and the viewer takes over. They must stop, look, ponder, see something in another way, love it, hate it, or walk on by. I truly hope you can feel my passion through this body of work.
ABOUT THE FIRE SERIES:
The Fire Series
For 18 years the Basalt mountain ranges that backed my property served as my primary stomping grounds for hiking, biking, horseback riding, snowshoeing, cross country skiing, and snowmobiling. In 2018, a fire was started at the Basalt Firing Range by a couple who were shooting tracer bullets in broad day light while Colorado was in stage three fire restriction due to drought and high winds. As a result of this natural disaster my life changed drastically for two months; I stayed at home with my truck and trailer loaded up with important papers, art, and clothes- ready to leave at a moment's notice if we were ordered to evacuate. The smoke was so intense and suffocating that all outdoor activity was ordered to cease.
At 8:00AM every morning the helicopters would begin endless trips back and forth carrying buckets of water swinging precariously at the end of a long tether. Then the big 747's would follow with bellies full of red retardant, circling overhead low and slow like a vulture. As the choppers came in flying so haphazardly, we could see that often the brave pilots were women. We would frantically wave and sometimes they would see us and salute back. We all felt connected to the fight against this fire which was dubbed the Lake Christine Fire.
I began the Fire series in the Fall of 2018, knowing I would combine paint and metal to explore multiple iterations of flames, with the hopes of bonding complex emotions into metal. In February of 2019, I had the unique opportunity to go into the burn scar around Basalt on snowmobiles to see first-hand the devastation on the land, and to photograph the trees that were still standing strong against the pristine snow. These images became the inspiration for the 3-D abstract trees that are incorporated into the mixed media paintings; thus, the idea of the metal being "married" to the paintings became the underlying premise of this body of work.