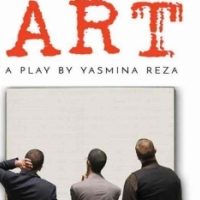 Live Theatre at Lunch!: "Art" by Yasmina Reza
05 | 28 @ 12:00 pm

-

1:30 pm
Enjoy the extraordinary performance of the Tony Award-winning play, "Art" by Yasmina Reza which focuses on the meaning of art as well as the meaning of friendship. Called, "…wildly funny, naughtily provocative…" by NY Post, the lunchtime performance will star Jason Antoon, Sam Robards, and Steven Cole Hughes. Food and bar available for purchase.
Starring Jason Antoon, Sam Robards, & Steven Cole Hughes

Jason Antoon
Among his television work, Antoon starred on the short-lived TV series Kings, in addition to numerous guest roles on various programs such as Modern Family in the episode Game Changer. On the big screen, he had a featured role in Minority Report, cast when Steven Spielberg discovered him in Contact. In 2008, he had a cameo in Taking Woodstock and he was seen in two 2010 George Gallo films, Columbus Circle and Middle Men. Antoon voiced the role of Garrison "Knobs" Butler in the web series Electric City, and portrayed 35-year-old struggling actor Alowisus Hewson who is a vampire in the web series Vamped Out.
Author of The Cursed Frog: and Other Modern Fairy Tales for Grown-Ups, Antoon's modern fables are like the classic ones except funnier and nobody ever learns anything. Ten weird and wonderful tales of pickpockets, putzes and philandering politicians. Not for kids!
"Jason Antoon is funny as hell." — Topher Grace
"His one-of-a-kind view of human behavior makes the rest of us writers cringe with envy. Damn his eyes." — Kevin Pollak
Sam Robards
Sam Robards began his acting career in 1980 in an off-Broadway production of Album, and made his feature-film debut in director Paul Mazursky's 1982 film Tempest. In 1985, Robards starred alongside Kevin Costner and future wife Suzy Amis in Fandango. Robards acted opposite his father in the 1988 film Bright Lights, Big City, which was their only collaboration before his death in 2000. Also in 1988, he was cast in the lead role of Kevin Keegan in the CBS drama TV 101 which was scheduled opposite Top 10 shows Roseanne and Matlock; the series was cancelled amidst a controversial abortion story line.
In 1990, he played the role of Chris Elliott's friend, Larry, on the Fox sitcom Get a Life, but left after the first season. In 1994, Robards starred in two films: Robert Altman's film Prêt-à-Porter, where he was a part of an ensemble that included his mother; and Alan Rudolph's biographical film of Dorothy Parker, Mrs. Parker and the Vicious Circle, where he portrayed the first editor of The New Yorker, Harold Ross.
His film résumé also includes Casualties of War, Beautiful Girls, American Beauty, A.I. Artificial Intelligence, Life as a House, The Other Side of the Tracks, and The Art of Getting By. Robards's television credits include a recurring role on and appearances on Spin City, The West Wing, Law & Order, Law & Order: Criminal Intent, Sex and the City, The Outer Limits, and Body of Proof. He had recurring roles on the series Gossip Girl (ended in 2012) and Treme (ended in 2013), and a regular role on Twisted (cancelled in 2014).
In the theatre, Robards was nominated for Broadway's 2002 Tony Award as Best Actor (Featured Role – Play) for Arthur Miller's The Man Who Had All the Luck. In July 2008, Robards took over the role of Richard Hannay in the New York City theatrical run of The 39 Steps.
Steven Cole Hughes
Steven Cole Hughes is a playwright, actor, director and currently Associate Professor and Director of Theatre at Western Colorado University. He is also the faculty mentor for playwriting at Regis University's Mile-High MFA. His full-length plays include: Indiana, The Presidents!, Slabtown, Billy Hell, The Bad Man, cowboyily, Behold! The Fig Leaf Apron, Dogs by Seven andPoor Devils. His plays have been produced by the Bloomington Playwrights Project, The Coterie Theatre, Creede Repertory Theatre, Curious Theatre Company, Denver Center for the Performing Arts, and the Edinburgh International Fringe Festival. He won the 2008 Denver Post Ovation Award for Best New Work for Billy Hell, and the 2011 Denver Post Ovation Award for Special Achievement for his trilogy of plays The Billy Trilogy. He has a BA in Theatre from Indiana University and an MFA from the National Theatre Conservatory.