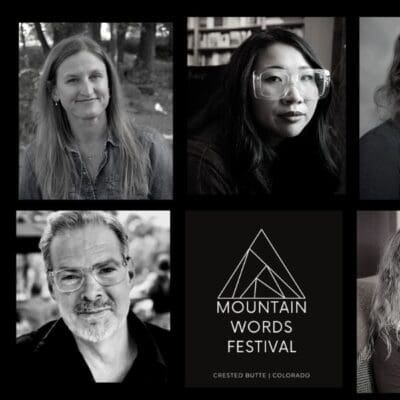 MWF: Reception – Writers in Res Read + Chamberlain Award
05 | 26 @ 5:30 pm

-

7:30 pm
Join us for the Friday night festival reception featuring local produce alá Crested Butte Personal Chefs, drinks by Montanyas Rum Distillery, and book signings with festival presenters followed by Writer-in-Residence Readings with Alessandra Bautze, Claire Boyles, Harrison Candelaria Fletcher, Molly Murfee & Jenny Qi.  Art Goodtimes presents Marilyn Krysl with the Chamberlain Award.
Alessandra Bautze is Assistant Professor of Screenwriting at Georgia State University. She holds an M.F.A. in Screenwriting from The University of Texas at Austin, as well as a B.A. in The Writing Seminars and Film & Media Studies from The Johns Hopkins University. Her work seeks to reflect the diversity of the American experience while also embracing a socially-conscious, realist approach to narrative. Her screenplay RACING THE WOLF GOD won Best Screenplay at the 2021 Anchorage International Film Festival. Set in the Yukon-Kuskokwim Delta of Alaska, this drama follows a 26-year-old Yup'ik woman and former champion musher who, after ten years in prison, faces the challenges of re-entry as she finds herself back in the world of dogsled racing—the exact activity that led to her incarceration in the first place. In addition to her work as a writer, Alessandra also works as a script consultant, most recently for SignWorld Studios, a Deaf-owned production company focusing on producing authentic media in American Sign Language and English. In November 2021, she was one of six writers selected to participate in the 2021 Nanjing International Writers' Residency Program, where she participated in a virtual cultural exchange with Chinese writers. In July 2022, she returned to Alaska to participate in the Storyknife Writers Residency Program for women writers in Homer, Alaska. She believes in the power of language to connect communities.
Claire Boyles is a writer and former farmer who lives in Colorado. A 2022 Whiting Award winner in fiction, she is the author of Site Fidelity, which won the High Plains Book Award for short story collections and was longlisted for the PEN/Robert W. Bingham Award, the Colorado Book Award, and the Reading the West Award. She has received support from the Kimmel Harding Nelson Foundation, the Bread Loaf Orion Environmental Writers Workshop, and the Community of Writers. She has been a Peter Taylor Fellow for the Kenyon Review Writers' Workshop and teaches in Eastern Oregon University's low-residency MFA program in Creative and Environmental Writing. www.claireboyleswrites.com.
Harrison Candelaria Fletcher is the author of the memoir, Presentimiento: A Life in Dreams, the essay collection, Descanso for My Father: Fragments of a Life, and his newest book, Finding Querencia: Essays from In Between. He is the recipient of a 2022 National Endowment for the Arts Creative Writing Fellowship in Prose, the Autumn House Press Nonfiction Prize, the Colorado Book Award, the New Mexico-Arizona Book Award, the Independent Publisher Book Awards Bronze Medal, a Kirkus Reviews Best Indie Memoir selection, and a "Top Ten Latinx Author of 2017" designation by Latino Stories. He also has been a finalist for the International Latino Book Award, the National Magazine Award, and the Breadloaf Bakeless Literary Prize.
His work has appeared in such venues as New Letters, TriQuarterly, Puerto del Sol, Best of Brevity, Best of Pilgrimage, Brief Encounters, The Touchstone Anthology of Contemporary Creative Nonfiction and Advanced Creative Nonfiction: A Writer's Guide and Anthology. His other honors include the New Letters Literary Award, High Desert Journal Obsidian Prize, Sonora Review Essay Award, Juxtaprose Nonfiction Award, Pushcart Prize Special Mention, Best American Essays Notable selection, and residency fellowships from the Arizona Poetry Center, Vermont Studio Center, PlatteForum and Art 342.
Jenny Qi is the author of Focal Point, selected by Dustin Pearson for the 2020 Steel Toe Books Poetry Prize. Her essays and poems have been published in The New York Times, The Atlantic, and elsewhere. She has received support from organizations such as Tin House, Omnidawn, Kearny Street Workshop, and the San Francisco Writers Grotto. Born in Pennsylvania to Chinese immigrants, she grew up mostly in Las Vegas and now lives in San Francisco, where she completed her Ph.D. in Cancer Biology. She has been translating her late mother's memoirs of the Chinese Cultural Revolution and immigration to the U.S. and is working on more essays and poems in conversation with this work.
Creative non-fiction and place-based author Molly Murfee has studied, written, and taught nature writing, ecofeminism, mythology, creative writing, and indigenous culture and history for over three decades. She is the author of the Earth Muffin Memos blog featured in the Crested Butte News and online, focused on fostering environmental and social change. Her over 500 published articles have appeared throughout local venues, as well as nationally in outlets such as Mountain Journal, the Mountain Gazette, and Powder Magazine. Writing publicly for and in this community for over 20 years, Molly is the former feature writer and editor of the Crested Butte Weekly and can now be regularly found in the Crested Butte Magazine. She holds Bachelor and Master of Arts degrees in literature, creative writing, and environmental writing; and has served as faculty teaching the same with Colorado College, Colorado State University, and the Audubon Expedition Institute at Lesley University. Molly currently teaches expedition-based nature writing and environmental ethics courses with the Clark Family School of Environment & Sustainability at Western Colorado University. Additionally a field educator and wilderness guide, her writing workshops connect people to place through immersions in nature. As a creative activist, she co-directs the Autumn Equinox celebration, Vinotok, generating earth-honoring and community-building practices through storytelling, mythmaking, public art, and street theatre.
Her recognitions include: finalist for the 2022 Annie Dillard Award for Creative Nonfiction; contributor to the 2022 Bread Loaf Environmental Writers' Conference; Career Advancement Award from the Colorado Creative Industries; an Artistic Enrichment Grant from the Crested Butte Arts Festival; and Red Lady # 30 for High Country Conservation Advocates, among other honors. Molly's book in progress, The Adventure of Home, is a creative nonfiction book re-membering our indigeneity to this Earth through braided lyrical narratives unravelling patriarchy, capitalism, Christianity and colonialism, and reweaving mythologies of a sacred wild.