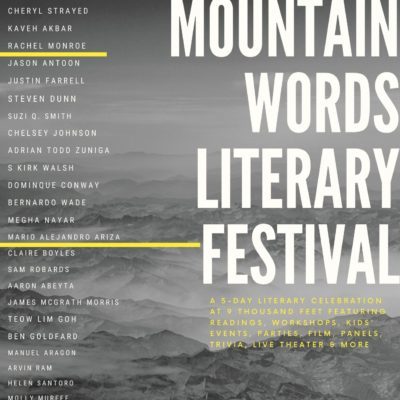 MWLF: Writers in Residence Reception + Karen Chamberlain Award
05 | 27 @ 5:30 pm

-

7:00 pm
Mountain Words Literary Festival: Reception: Writer-in-Residence Readings + Karen Chamberlain Award with Kaveh Akbar, Stephanie Maltarich, Megha Nayar, Bernardo Wade. Aaron Abeyta receiving Karen Chamberlain Award
Friday, May 27, 5:30 – 7 pm
Kaveh Akbar's poems appear in The New Yorker, The New York Times, Paris Review, Best American Poetry, and elsewhere. His second full-length volume of poetry, Pilgrim Bell, will be published by Graywolf in August 2021. His debut, Calling a Wolf a Wolf, is out now with Alice James in the US and Penguin in the UK. He is also the author of the chapbook, Portrait of the Alcoholic, published in 2016 by Sibling Rivalry Press. In 2022, Penguin Classics will publish a new anthology edited by Kaveh: The Penguin Book of Spiritual Verse: 100 Poets on the Divine
In 2020 Kaveh was named Poetry Editor of The Nation. The recipient of honors including multiple Pushcart Prizes, a Civitella Ranieri Foundation Fellowship, and the Levis Reading Prize, Kaveh was born in Tehran, Iran, and teaches at Purdue University and in the low-residency MFA programs at Randolph College and Warren Wilson. In 2014, Kaveh founded Divedapper, a home for dialogues with the most vital voices in American poetry. With Sarah Kay and Claire Schwartz, he wrote a weekly column for the Paris Review called "Poetry RX."
Megha Nayar is a communications coach from/in Ahmedabad, India. She spends half her time training corporate professionals in French, English, and Soft Skills, and the other half writing short stories to deconstruct the complicated experience of womanhood in modern India. She lives with her parents, grand-parents, and an eccentric little pug.
Since 2019, Megha's stories have appeared in 40+ literary magazines, among them Macromic, Trampset, Bending Genres, Out of Print, Gulmohur Quarterly, and Bengaluru Review. She was longlisted for the Commonwealth Short Story Prize 2020 – her story "Don't Stay" made it to the top 200 out of 5,100 entries.
In 2021, Megha was selected for the inaugural cohort of Write Beyond Borders – a British Council-funded project offering masterclasses and mentorship to 10 upcoming South Asian writers. Megha was tutored by London-based author Amita Murray.
When she's not teaching her students new words, Megha is busy learning some. She is a student of Spanish – entirely self-taught. She plans to earn a DELE B2 Diploma by 2023 and add a third language to her repertoire. She is also a trained garba dancer and a keen solo traveler. Having spent three life-altering months in a Himalayan hamlet last year, she hopes to become a permanent mountain-dweller someday.
Bernardo Wade is a writer/artist from New Orleans, Bernardo Wade tries at poems & rides his bike around Bloomington, IN, because IU funds his present period of studying with others. He currently serves as Associate Editor of Indiana Review, is a Watering Hole Fellow, and moonlights as an equity and justice advocate. He was recently awarded the 2021 Puerto del Sol Poetry Prize and has words in or forthcoming in Crazyhorse, Black Warrior Review, Guernica, Cincinnati Review & others.
Aaron A. Abeyta is a Colorado native and Director of the Graduate Program in Creative Writing, Poetry at Western Colorado University. He is the Mayor of Antonito, Colorado, his hometown.  Abeyta is the author of four collections of poetry and one novel. For his book, colcha, Abeyta received an American Book Award and the Colorado Book Award. In addition, his novel, Rise, Do Not be Afraid, was a finalist for the 2007 Colorado Book Award and El Premio Aztlan. Abeyta was awarded a Colorado Council on the Arts Fellowship for poetry, and he is the former Poet Laureate of Colorado's Western Slope and was a finalist for Colorado Poet Laureate. Aaron has over 100 publications including 'Wildness, Relations of People and Place 'An Introduction to Poetry, 10th ed.,' Literature: An Introduction to Fiction, Poetry, & Drama, 8th ed.' 'Conversations in American Literature: Language, Rhetoric, & Culture' 'The Leopold Outlook' 'Colorado Central Magazine' 'The High Country News' and numerous other anthologies and journals.