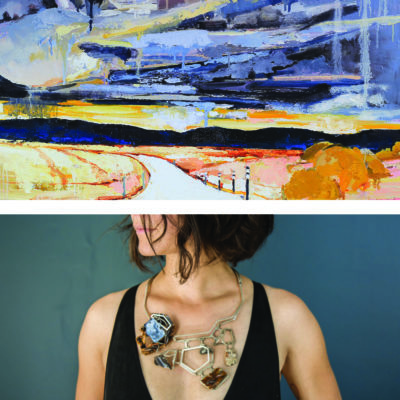 "Path to Eminence" by Meghan Wilbar & "Memoric Displacement" by Alexandra Forsythe
07 | 1

-

08 | 7
Join us to celebrate Meghan and Alexandra for their opening reception on July 9, 5 – 7 pm in the Kinder Padon Gallery.
"Path to Eminence" by Meghan Wilbar
As the clouds shift and change the landscape, I've been watching and drawing. I'm drawing the intimate story that exists by looking into the vastness of the open road and selecting the story through torn paper and drawn line. During the days of staying close to home, I've been drawing in my car with a pencil and an assortment of papers. It's a process of careful looking and deciding what story gets told through the lens of shifting impermanence. Concentrating on a 5 mile stretch of Highway 96, I've returned throughout the year to walk, draw and absorb the change of form and color at the point where day becomes night. The stretch of landscape includes bluffs, mountains and prairie where shapes change depending on the light. Color, form and imagery create spaces that are both solid and ephemeral. I work to capture these moments through drawing and memory to use in the studio. Every drawing is a prequel to the story the painting tells and will be on view as a pair to show the journey through both observation and interpretation. This exhibition will include both existing works as works that are currently in process. As we move into winter with extended moments of darkness, the project continues with new forms and colors. Through this journey, my work reflects both the strength and fragility of our fleeting moments of time.
Check out her Instagram!
"Memoric Displacement" by Alexandra Forsythe
I learned bead stringing and weaving techniques at the age of 7. This combined with an eye for color and design, earned me several commissioned pieces from family and friends. After being introduced to silversmithing by local jeweler Dave Morgan at the age of 14, I was excited to take my love of stones and metal to a new level. At the age of 16 I attended the intensive jewelry program at the highly respected Revere Academy of Jewelry Arts in San Francisco, CA. I was one of the youngest students ever to attend the program and had a keen interest in every subject offered. My drive to master the skill set presented helped me place second in my class's final design competition. Attendance at advanced seminars further opened my eyes to the possibilities of incorporating finely made hinges and granulation in my work. The melding of these elements with the organic texture of cuttlefish allows me to express my creative impulses and deep connection to nature.  Hand-casting cuttlebone in fine silver and gold provides an element of surprise and pure organic patterning that is impossible to create otherwise. I allow the inspiration of the waves and swirls that emerge to guide my placement of stones and the shaping of the final pieces. Those who wear my jewelry swear by the durability and comfort. My studio is located in historic downtown Buena Vista, Colorado. I have bench-side views of several 14,000 ft peaks and an expanse of wild terrain to keep me both inspired and grounded. Being able to take an hour or two each day to hike with my dog, rock climb, or raft on the beautiful Arkansas River helps me maintain balance and perspective.
Purchase from her Etsy store and view her Instagram