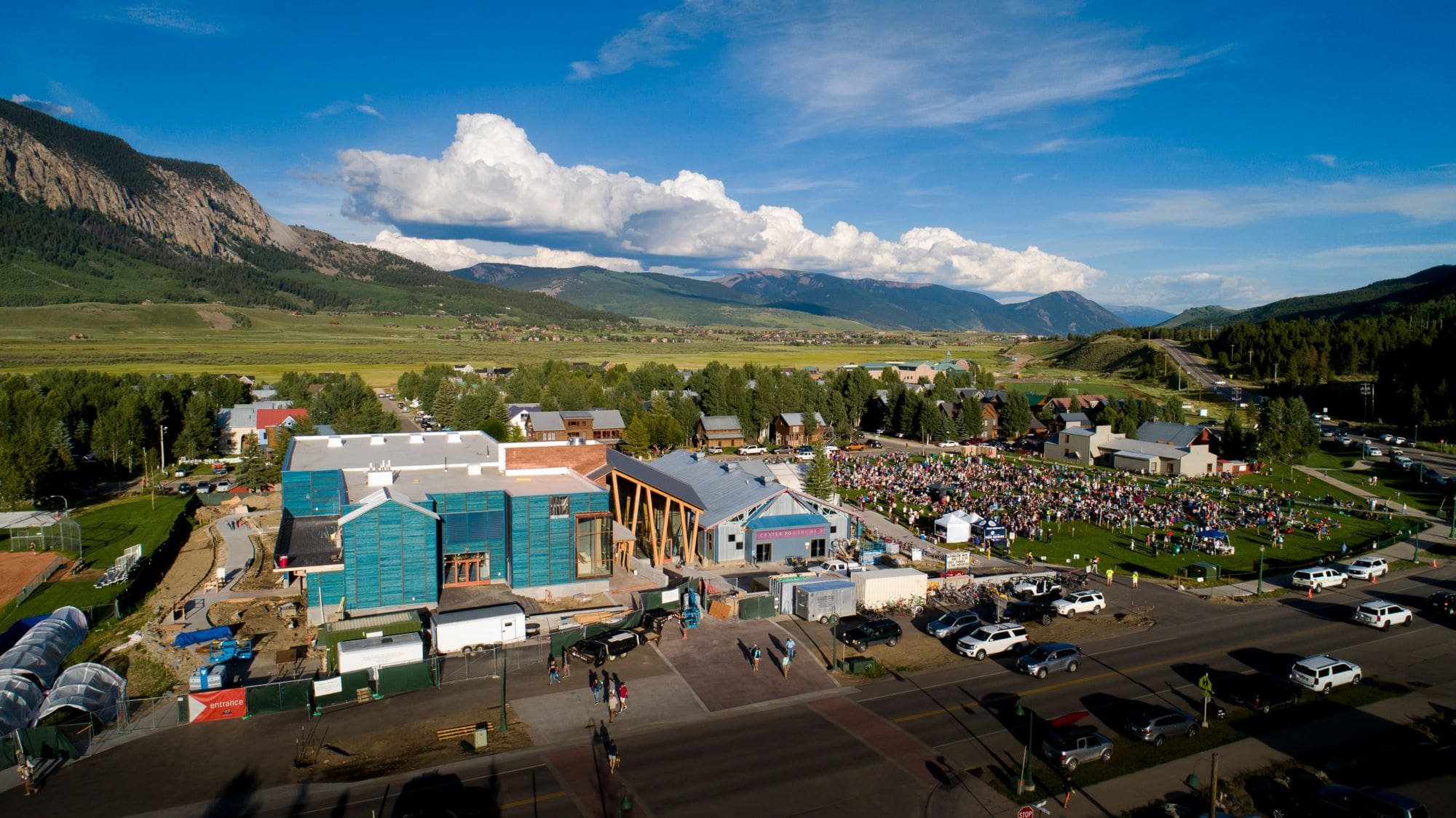 photo by: Nathan Bilow
Mission Statement
As a home for arts and culture, The Center for the Arts offers engaging opportunities and educational experiences to enrich and expand the life of our community.
Vision
Truly unrivaled in Colorado as a captivating and welcoming place, The Center for the Arts brings people together to share, inspire, nurture, educate, and enjoy arts and culture.
---
Center for the Arts Crested Butte is home to popular signature events and a wide variety of indoor and outdoor attractions. Visitors young and old enjoy a year-round schedule of live music, dance and theater performances as well as art exhibits, speakers and much more. For more than 20 years, Center for the Arts has been committed to providing arts and cultural experiences that inspire and entertain all audiences, whether they call Crested Butte home everyday or just for the weekend.
As the premier visual and performing arts venue in the region, Center for the Arts hosts events throughout the year on our outdoor stage, expansive indoor auditorium (The Steddy Theatre), and at the Kinder Padon Gallery, a popular in-house gallery for local and regional exhibitions. In addition to our popular signature events, including Alpenglow, Tour de Forks and Winter Season, the Center also proudly serves as a premier events venue for local community organizations. Together, we bring attractions such as film screenings and music festivals to Crested Butte.
Center for the Arts strives to enrich and engage the community by fostering artistic expression and cultural experiences in Colorado's Upper East River Valley. Our vibrant facility, diverse programs and community outreach provide the common ground for all of our visitors to experience arts and culture in a whole new way.
---
History
A Community Rich in History and Art
In the 1860s and 1870s, Crested Butte, Colorado was transformed from a tiny outpost of 100 trappers and hunters into a thriving mining town. Coal and silver mines drove the growth of a robust economy, and ranching soon followed. This boom was followed by a bust, however, in the early twentieth century. With the decline of the  mining industry, many families had a hard time making ends meet. The population plummeted from a high of 1,250 in 1930 to 259 in 1960, and children in sixth through twelfth grades had to attend school in nearby
Gunnison.
The town began a slow revival in the 1960s, when a ski resort was built on Crested Butte Mountain. More recently, in the 1990s, prosperity returned to Crested Butte as the area has developed other businesses, including a healthy tourism industry. Visitors began to come in the winter to ski and in the summer to enjoy many outdoor activities, and non-residents in these citizens greatly outnumber the year-round population of 1,500 citizens.
The economic rebirth of the town has been substantially enhanced by the cultural life that has developed in Crested Butte over the years. Even before its economy began to revive, the town was known to be home for artists, musicians, and other creative people, and this has helped draw seasonal residents and tourists to the community. This reputation was solidified in 2013 when the community was designated one of the Top Twelve Small-Town creative hubs in the country by ArtPlace, a prestigious collaboration of national and regional foundations, banks, and federal agencies committed to revitalizing communities through the arts. However, the award was based on the quality of the performance and exhibitions in Crested Butte despite the shortage of facilities needed to support this great creative work.
---
A World-Class Creative Center With Deep Local Roots
The mainstay of the arts in Crested Butte was born in 1985, when a passionate group of local residents came together to create a community arts center in Crested Butte. This determined team was able to convert an old county road maintenance garage into a 6,000-square-foot Center for the Arts that houses a 215-seat auditorium with a stage, lobby, art gallery, set shop, two dressing rooms and an attached outdoor garage that -when opened -serves as a stage for outdoor events. The Center for the Arts was the catalyst in putting Crested Butte on the national map as a friendly haven for artists and musicians, dancers and actors.
Once a grassroots startup, today Center for the Arts Crested Butte is the cultural hub of the Gunnison Valley for live music concerts including blues, jazz, bluegrass, classical, folk, rock, country, funk and more. Our live outdoor concert series, Alpenglow, enlivens the community with free entertainment on Monday nights during the summer. Professional dance performances range from ballet to modern to burlesque. Traveling productions and local theater productions all find a place at the Center.The Center also hosts the Crested Butte Wine & Food Festival during July with wine seminars, elevated dining events and food pairings. Numerous world-class performers have performed at the Center including Ario Guthrie, Junior Brown, Los Lobos, Robert Earl Keen, and Lisa Marie Presley. Although some of our guests may have seen these performers in New York, San Francisco or Dallas, the intimate setting of the Center for the Arts provides a whole new perspective.
The Center has a history of a vibrant culture of volunteerism, a strong can-do ethic, and a deep sense of community.