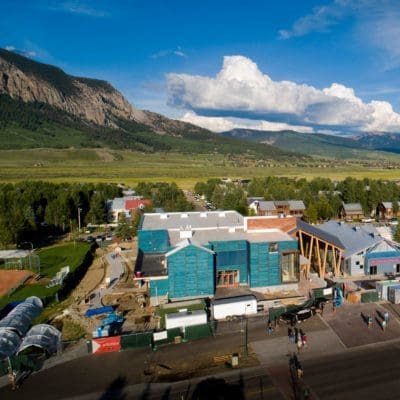 Center for the Hearts
October 13, 2017 | In the News | Comments Off on Center for the Hearts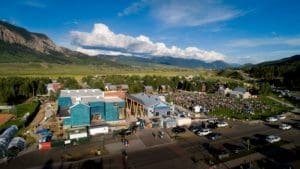 In 1985 a determined group of Crested Butte residents converted a county maintenance garage into a community arts center. Today, that same building has been pushed beyond its capacity to try to fulfill the changing cultural needs of the community.
---
Over the last thirty years, the local population has doubled, and there has been tremendous growth in the number of events presented, the size of audiences, and the number and variety of educational programs provided by the Center for the Arts and its partner organizations. Two community organizations, the Crested Butte School of Dance and Crested Butte Mountain Theatre, inspired the creation of the Center for the Arts. Today, twelve community groups utilize and benefit from the Center. Less than 8,000 people attended Center events in 1985, while last year over 40,000 people attended over 650 events, positively impacting the local economy by more than $3 million.
Building in the heARTS of Crested Butte is the Center's capital campaign for an expanded community arts complex to support the performing, visual, culinary and literary arts. Phase 1 is the new, larger building. In Phase II, the Center's original building will be renovated into an Arts Education Center. Phase III, a larger, modernized outdoor stage, will complete the project.
---
OUR NEW HOME
Designed to meet our community's needs today and into the future, with:
•  Flexible seating for up to 450 people
•  Dance floor and balcony
•  2 class and rehearsal rooms
•  2 visual arts classrooms
•  New reimagined art gallery
•  Culinary instruction space
•  Multipurpose meeting spaces for the community
•  State-of-the-art lighting, sound and visual technology
•  Energy efficient HVAC
•  ADA compliant
•  31,000 square feet
•  CLICK HERE to view the floorplan
WAYS TO SUPPORT YOUR NEW BUILDING
Donations of all sizes are still needed.
Naming Opportunities
There are several naming opportunities still available for you to support your amazing new Center for the Arts! Your legacy gift will benefit the entire community today and for future generations. To view the few remaining naming opportunities, click here.
You can also support the Center's new facility with a gift in the amount that's right for you to help fund the Fit Out of the new building. Fit Out is the process of making the interior spaces suitable for occupancy once the base construction has been completed. The Center's Fit Out opportunities include things such as acoustical curtains, sound systems, LED lighting, digital control systems and more.
CONTACT: Jillian Liebl, Development Director – jillian@crestedbuttearts.org 970.349.7487 ext. 702