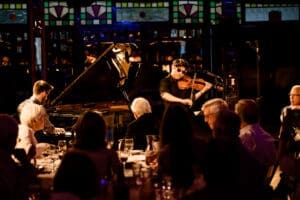 The Crested Butte Music Festival (CBMF) has been integrated with the Center for the Arts as of April 2023.
Following a series of struggles around finances, the pandemic, and staffing, the CBMF board felt that merging with the Center for the Arts would provide the long-term stability necessary to continue the programming and educational opportunities that the CBMF has provided within the community for the past 26 years.
The Center is proud to continue the rich legacy of the Crested Butte Music Festival. In the coming months we will be expanding our classical, jazz, blues, and bluegrass offerings, and look forward to bringing high-quality artists in these genres to Crested Butte year-round. We are currently in the process of mapping what this programming will look like at the Center.
To facilitate this transition, the Center has hired a new Program Manager for Performing Arts, Stephanie Helleckson. A Western Colorado native, Stephanie holds a Masters in Arts Administration, as well as a Bachelors in Music and a Bachelors in Anthropology. She has studied conducting under internationally-recognized conductors Dr. André Thomas and Dr. Gregory Gentry, and vocal performance under Met Opera Soprano Marcy Stonikas. She is also a professional violinist, music educator, and chamber player. Under her management, the Center is honored to carry on the Crested Butte Music Festival's legacy and looks forward to developing the next chapter of classical music in Crested Butte.
In the meantime, we hope you will join us for our upcoming classical, jazz, bluegrass, and blues programming!
Please also save the date for a special gathering of CBMF patrons past and present prior to the performance of Totally Mozart on Saturday, August 5. More details are forthcoming. We look forward to seeing you this summer. Thank you for your historic support of the Crested Butte Music Festival and the arts in our community.