The Center for the Arts is located in Crested Butte Town Park on 6th Street as you enter Crested Butte from the south. It will be on the right hand side past the first stop sign as you enter town.
---
designated parking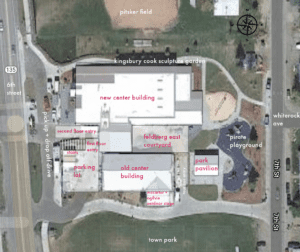 The Center for the Arts' parking lot is located right in front of the lower level doors; otherwise, please use public parking. For more information on public parking in Crested Butte, please visit the Town of Crested Butte's Parking Page.
The CB/Mt CB Chamber of Commerce's parking lot at the 4-Way Stop at 6th Street and Elk Avenue.
The tennis court parking areas at the 4-Way Stop. The new parking area on the southeast corner includes plug-in ports for your electric car.
The Crested Butte Community School at Red Lady Avenue and 8th Street.
Additional parking may be found in the empty lot across from the Center on Whiterock Avenue off of 6th Street.
---
free public transportation
We are fortunate to have two public transportation companies that provide FREE service to Crested Butte, Mt. Crested Butte, Gunnison, and points along Highway 135. We encourage you to use these services to keep roads safe and clear and to reduce parking congestion.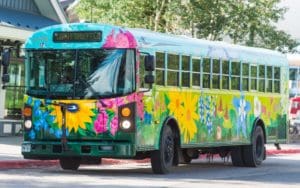 MOUNTAIN EXPRESS
Crested Butte, Mt. Crested Butte, CB South
The Town Shuttle provides service between Crested Butte and Mt. Crested Butte from 7:35 AM until 11:20 PM. It runs every 40 minutes during the Spring Off-Season. Be sure to check the Mountain Express website for current route and schedule information.
Phone: 970-349-5616
Website
RTA (Rural Transportation Authority)
Gunnison to Mt. Crested Butte, and select points in between
The RTA provides transportation between Gunnison and Mt Crested Butte with some flag stops (on-demand stops) along the way. It stops at the 4-Way Stop in Crested Butte before heading to Mt Crested Butte. The RTA's southbound stop in Crested Butte is on the northwest corner of 6th and Sopris and is a small covered shed in front of Paradise Café.
Phone: 970-641-5074
Website