Join us in Town Park, just south of the Center, for our free outdoor concert series, Alpenglow!
This Alpenglow will be a double header, with both Lizzy Plotkin & Natalie Spears and Storm Pass playing sets!
Lizzy Plotkin & Natalie Spears revel in the endless groove of Appalachian fiddle/banjo duets, funky blues bass lines, and soulful harmony singing.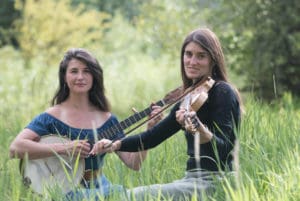 Created in the heart of the Gunnison valley, Storm Pass plays the music of the mountains they live in, the paths they've crossed and the traditional sounds that they love. With an Americana flavor and a bluegrass influence, the fiddle, mandolin and guitar weave together intricate melodies to tell these stories.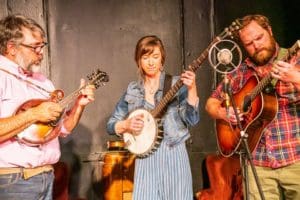 Rain or shine, music starts at 5:30. Bring a chair, a blanket, and your dancing shoes! Local food vendors and a bar will be available at every concert to create the perfect picnic.
Vendors this week include The Divvy and Log Dawg Weiner Wagon.
Please no dogs, no outside alcohol, and no glass. Please do not dump ice onto Town Park! Take the bus or ride your bike – it's good for the planet!