Sunday, December 5th, 2021
Rated PG
doors 4:30 pm \ film 5:00 pm
FREE!
Steddy Theater
Join us in the Grace Atrium Lobby starting 30 minutes before the movie for themed drinks, mingling, and fresh-popped popcorn.
When bratty 8-year-old Kevin McCallister (Macaulay Culkin) acts out the night before a family trip to Paris, his mother (Catherine O'Hara) makes him sleep in the attic. After the McCallisters mistakenly leave for the airport without Kevin, he awakens to an empty house and assumes his wish to have no family has come true. But his excitement sours when he realizes that two con men (Joe Pesci, Daniel Stern) plan to rob the McCallister residence, and that he alone must protect the family home.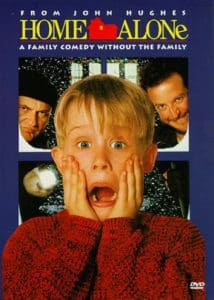 In an effort to keep our audience members, artists, volunteers, and staff members safe during the COVID-19 pandemic, the Center for the Arts requires all event attendees age 12 or older to present proof of full vaccination (via vaccination card) OR proof of a negative PCR COVID-19 test taken within 72 hours prior to the event start time.
To qualify as "fully vaccinated," an individual must have completed their full course of COVID-19 shot(s) 14 days prior to the event. Children under 12 are required to wear masks or present a negative test result.
*Vaccinated Patrons must bring a Photo ID AND one of the following to gain admittance: a physical vaccination card OR a photograph of vaccination card OR a digital vaccination record.
*Non-vaccinated patrons must bring a Photo ID AND proof of a negative COVID-19 test taken within the last 72 hours prior to attending events.