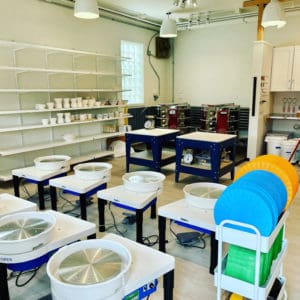 The Center is pleased to direct you to the Crested Butte Clay Studio, LLC for all your ceramics needs.  The Crested Butte Clay Studio is a Partner of the Center and is located at 423 Belleview Avenue, Unit 2.
Please visit their website www.crestedbutteclaystudio.com for more information.
Crested Butte Clay Studio is a fully equipped ceramic space that offers studio memberships to self-guided ceramic artists, a variety of classes to kids and adults in wheel throwing, sculpture and hand building, private lessons, rentals for small parties, community outreach, workshops throughout the year and a gallery of ceramic art.  
The studio is equipped with 10 Shimpo electric wheels, a slab roller, extruder, wedging tables, work tables, cone 5/6 clay, a glaze area with a variety of cone 6 glazes, 2 electric Skutt 1227 Kilns and lots of tools.
Follow @crestedbutteclaystudio
Email info@crestedbutteclaystudio.com