Watercolor Symposium 2021 PRESENTERS:
Stephen Quiller is an internationally known painter who works primarily in water media, monotypes, and intaglio printmaking. He is best known for his innovative approach to water media painting: watercolor, gouache, acrylic, casein and their combinations, and for his use of color. He has written six books, all published by Watson-Guptill:
Water Media Painting with Stephen Quiller
Water Media Techniques
Water Media: Processes and Possibilities
Color Choices
Acrylic Painting Techniques
Painter's Guide to Color
His research and development of a color wheel for painters – called the "Quiller Wheel" – is now used by thousands of painters throughout the world. In addition, he has developed twelve instructional dvds produced by Crystal Productions, as well as two dvds produced by the Richeson Company in 2004.
Stephen Quiller has painted in many parts of the world, but is primarily known for his work done at or near his home in the high mountainous country of southern Colorado.  These subjects include beaver ponds, snow shadows, water patterns, wild iris, and mountain rhythms, capturing the spirit of the San Juans.  Through his painting, he has become a Signature member of the American Watercolor Society, National Watercolor Society, Rocky Mountain National Water Media, and Society for Painters in Acrylic and Casein, among others. His work has been selected for the Gold Medal of Honor in 2014 and the Silver Medal of Honor in 2018 at the American Watercolor Society International Exhibition held at the Salmagundi Club in New York City.
Stephen's paintings have been on the covers and the subject of articles in many leading art magazines. He has also been an invited juror for a number of regional and national art exhibitions. Most recently 18 of his paintings hang at the governor's offices at the capitol and will until Governor Hickenlooper leaves office.
A popular workshop instructor, he teaches his approach to color, water media, composition, and on-location painting, throughout North America and internationally.
Stephen shows in the Mission Gallery of Taos, New Mexico, and during the summer months he and his wife, Marta, operate their Quiller Gallery in Creede, Colorado.  quillergallery.com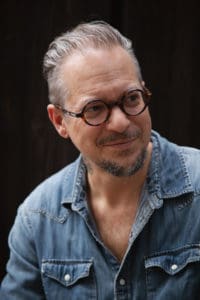 Daniel Marshall is a prominent watercolor artist based in Denver, CO.  He is an avid plein air painter, being inspired by and painting the majority of his works on location. This has helped him develop a confident style with an immediacy and freshness infused into each painting.  Dan considers himself a regional painter, however, benefiting from having lived on both coasts and now the great American West, his "region' spans the country and speaks to many themes of Americana.
The ability to break down and clearly explain his process, as well as give his students the tools to grow in their own direction has made Dan a much sought after instructor.  In addition to teaching workshops throughout the country, due to the pandemic, he has been able to shift his love of teaching to individual online classes and virtual workshops. His experience in the physical and now virtual world has elevated his teaching ability and effectiveness in communicating.
Daniel is an award winning professional artist, directing the majority of his creative energy to painting in watercolor since 2013. He's had articles in Watercolor Artist Magazine, Southwest Art Magazine, American Art Collector and Plein Air Magazine. He is also a regular contributor, writing articles about plein air painting, experiences and watercolor instruction.  He's been on the faculty and a demonstrator at the last four Plein Air Magazine conventions and demonstrated on the Watercolor Live event to rave reviews. 
Also, while in Crested Butte, he will be judging this year's Colorado Watercolor Society Splash exhibition.
Daniel Is a signature member of the The American Watercolor Society, The Laguna Plein Air Painters Association, the American impressionist Society and is a member of the exclusive Salmagundi Club in NYC. In 2019 he had his first formal Museum exhibition at the Nicolaysan Art Museum in Casper, WY. Dan is represented by the Huse Skelly Gallery in Balboa Island, CA. 
For more information on Dan and to see his work, please visit danmarshallart.com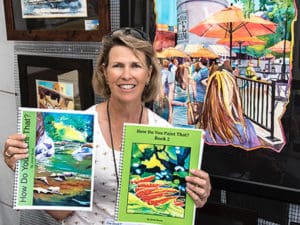 Janet Nunn is an award-winning watercolorist known for her use of bright color and blending techniques. Janet's works have been featured in Splash 14, and Splash 16 and Watercolor Artist magazine and has published several of her lessons in her book, "How Do You Paint That." Her popular watercolor workshops take abstract techniques and make them realistic, all in an effort to simplify the watercolor painting process.
Janet paints with Dr. Ph. Martin's Hydrus Liquid Watercolors, a paint made in Colorado that keeps the brightness and consistency in the paintings. As an instructor, Janet enjoys teaching in a positive way, guiding students to uncover their own style of painting while they learn many watercolor techniques in a completely hands-on experience.  janetnunnwatercolors.com
Steve Griggs  Steve's love of art started early in life. While other children would lament field trips to the art museum, that was his favorite day of the school year! Steve's mother bought his first 'real' watercolor set of six tubes of paint, when he was in elementary school and his love of watercolor was born. Growing up in a large family made finding time and space for painting difficult. Whenever possible Steve would steal away to the basement of his childhood home where he would paint but never show anyone what he had done. Steve remained a 'closet artist' until he attended Michigan State University and graduated with a degree in Studio Art. Steve later attended Art Center College of Design in Pasadena, California.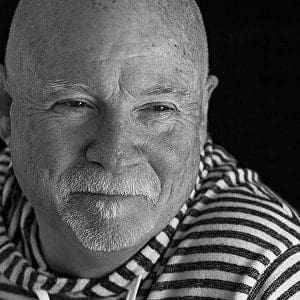 With his unique, loose painting style, Steve's paintings have been juried into a variety of national and international exhibitions and regularly win awards. Steve loves to guide other artists in learning to paint in his free and expr
essive style and he is a sought after workshop instructor and exhibition juror. Steve and his partner, Sue,
have also written numerous articles for publication in Watercolor Artist and The Artist Magazine (published in the UK).
Steve has gallery representation with Mirada Fine Art in Indian Hills, Colorado; Twisted Fish Gallery in Elk Rapids, Michigan; J Petter Galleries in Douglas, Michigan; and South Wind Gallery in Topeka Kansas.  stevegriggswatercolor.com
Recent Press About Steve Griggs
Arts_Spotlight (1)