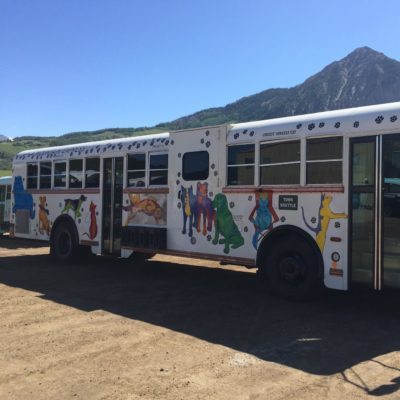 August 24, 2017 // Olivia Lueckemeyer
Just like the people of Crested Butte, the buses that circle through town and on the mountain are chalk full of personality.
"Crested Butte is a pretty artsy town," said Chris Larsen, current Mountain Express transit manager. "People just love the painted buses."
The decision to paint the buses of Crested Butte came from Jim "Deli" Schmidt, the Mountain Express transit manager in 1983, the year when the town was able to purchase six new buses at once. An artist from the Paragon Art Gallery submitted proposals for the buses' designs, including the cow bus, the Aspen tree bus, the lizard bus, the flower bus, the mushroom bus, and a bus depicting a scene on Elk Avenue.
Ever since then, every new bus added to the fleet is transformed into a work of local art. About 40 buses have roamed the streets of Crested Butte since the first painted bus hit the road, according to Larsen, and today 23 buses are in operation, all painted with a unique design.
When a new bus is added to the Mountain Express fleet, staff members put a request for proposals in the Crested Butte News calling for local artists to submit a sketch of their design. The Mountain Express board then holds a meeting where artists are invited to attend, explain their design and answer any questions the board may have. A winning idea is chosen by the board and the artist is given a bay in the bus repair shop and all the necessary supplies to bring their design to life.
According to Larsen, depending on the amount of detail involved in artist's design, painting a bus can take anywhere from one to two months.
Local artist and creative behind the beloved fish bus Kate Seeley said her bus took three months to paint. Originally named the Trout Transit, the fish bus, which now lives in Seeley's back yard and serves as her studio, came to life after then-transit-manager Scott Truex requested that Seeley submit a design.
"Last minute I whipped up a sketch," she said. "It was a coup because nobody, including Scott, knew if I was a decent artist, much less a decent painter."
Seeley played a significant role in paving the way for today's bus art protocol. She was the first artist to be paid for the job after vocalizing her opinion that artists should be reimbursed for painting the buses. Today, according to Larsen, artists are paid $2,000 to paint a larger bus or $1,000 for a smaller bus.
She also mentioned that Mountain Express should switch to non-toxic paint so future artists would not be exposed to potentially harmful chemicals. The board listened and promptly swapped out their supply.
Having just moved to Crested Butte from Boulder, painting a Mountain Express bus gave Seeley a "grand entrance" into the community, she said.
"I was inspired to paint the bus because this guy, Scott Truex, who barely knew me nor my work believed in me and I had never painted anything so huge and that would become public art," she said. "I enjoy my efforts most when appreciated and shared with people who cannot afford original art versus having it locked away in one person's home. I embraced the challenge with fervor and delight."
Former Buttian Jesse Blumenthal is responsible for the bicycle bus, which can be found on the streets of Crested Butte today. He said his bus took one month to paint and was inspired by a photograph taken by local photographer Trent Bona.
"Ever since moving to Crested Butte I was taken with the openness for art in and on public spaces," Blumenthal said. "I was very grateful to become a part of that tradition."
The greater community is also sometimes asked to contribute to a bus design. In 2016, to raise funds for the Paradise Animal Welfare Society, members of the community were asked to send in a photo of their pet along with a small donation. Two pets were chosen to be painted on a new bus and the remaining pets were given a painted paw print with their name.
Six more buses are slated to join the Mountain Express fleet between now and 2018, Larsen said. Two designs have already been chosen, a wildflower bus and a bubble bus, and Larsen said Mountain Express will soon put out a request for more designs.
To Larsen's knowledge, the tradition of painting the buses is unique to Crested Butte, at least in the United States.
"Other places might paint their buses, but they are all the same; no one paints them like we do," he said. "It makes the community even more unique than it already is."
THE CREATIVES
THE CREATIVES
FEATURED OPPORTUNITY
FEATURED NEWS
[mc4wp_form id="693″]