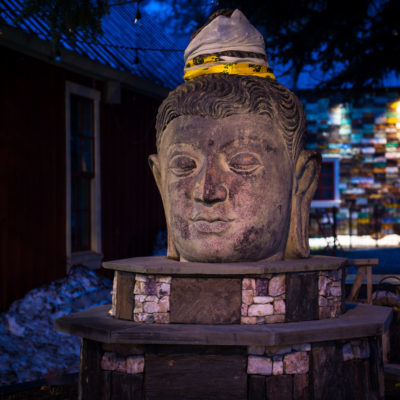 Artists: Head: Surapon (Northern Thailand), Installation: Blake Woodward, Tio Rau, Karma Lama
Location:  Mabuhay, 404 Elk Ave.
Medium: Fired Ceramic
Things can get pretty crazy on Crested Butte's main thoroughfare.  However, on the corner of 4th and Elk, a different vibe reigns. There, a large Buddha head serenely dwells–eyes half-closed, gazing inward; a faint smile indicating his state of enlightened wisdom and knowledge.  His elongated ears have heard many a conversation, but he's not telling.
Blake Woodward, a local importer of antique Asian artifacts, is responsible for the enlightened one's presence in this mountain town.  But there is more to this Buddha than meets the eye. As with stupas (Buddhist shrines) worldwide, he houses numerous relics.  Karma Lama, a local Tibetan resident, inscribed Sanskrit prayers for the Town of Crested Butte in the cement base.  The next levels (constructed by Tio Rau from locally harvested red basalt) are filled with sacred ritualistic objects including a gift Karma received from the Dalai Lama. Inside the head rests a foot-tall amethyst point amongst other antique treasures.  Numerous locals donated crystals to the project and continue to leave gifts to this day.  In a town where extremes are the norm, the Buddha's 'path of the middle' is a good lesson for all.
Blake Woodward is the owner of Mabuhay Imports, a treasure-filled store in Crested Butte.  More information is available at www.shopmabuhay.com.