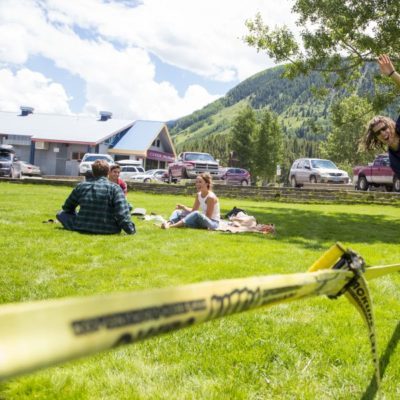 The Creative District is requesting proposals from creative individuals for the installation of unique, outdoor three-dimensional art or sculptures for Crested Butte Town Park. There is the potential for one permanent sculpture and two temporary sculptures or installations.
There is an opportunity for three sculptures to be featured on in-ground concrete pedestals adjacent to the Center for the Arts building along the walking path in Town Park. The Creative District will also welcome proposals for temporary public art that could be anchored in the ground without a pedestal (but could be easily moved if a utility issue arose). A site plan including installation locations and pedestal locations is shown in Appendix A in the RFP. 
The Creative District is also welcoming of proposals that include installations that move beyond a single sculpture that might include (but are not limited to) interactive or multimedia work. All selected temporary proposals will be installed for the summer season from July 1, 2019-October 15, 2019. The permanent sculpture will need to be installed prior to August 15, 2019.
Proposals are due on
Friday, May 17, 2019 by 5 p.m.
Proposals may be submitted directly to the Creative District (directions are in the RFP) or submitted via CAFE by clicking HERE.
The Town Park Sculpture Garden is a collaborative effort by the Crested Butte Creative District, Town of Crested Butte, Crested Butte Center for the Arts, and Colorado Creative Industries. This project is a component of Crested Butte's Arts in Public Places Policy.