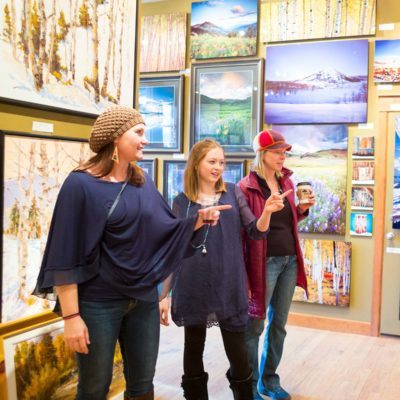 The Crested Butte Creative District invites registered Creatives to participate in the Winter 2018 Crested Butte Creates, Give Creatively Campaign
What is the Give Creatively Campaign and why should I participate? This campaign is designed and run to bring awareness to individuals and business who make up the Crested Butte Creative District and the diverse art, items, and services they create and make available to consumers who love Crested Butte. By participating in the campaign, your creative work or service will be featured, along with information you choose to share about your work.
Creatives may choose to offer a discount or incentive for purchase, or may choose to share their story, their art or their service.
The campaign will be seen by viewers and listeners through: KBUT, the Crested Butte News, Print, Facebook and Instagram reaching a large number of potential customers.
This year the campaign in being managed professionally with additional funds going towards social media advertising.
How do I participate?
1. You must fill out this google form and send images to dropbox by October 24, 2018. (11/12/18 update: THE DEADLINE HAS BEEN EXTENDED!)
2. Please send 3-5 images of your work that will be shared in the campaign. If photo credit is required please list below AND in the name of the file. Images can be placed in this drop box folder: https://www.dropbox.com/sh/we7ye8z6pffcvbs/AAD_i4hKsqj1PAcpgbGIu520a?dl=0
What type of discount should I offer? This is entirely up to you! A discount is not required, but is suggested. Here are some suggestions:
BOGO – Buy one of something 'get' one of something else (i.e purchase a print and receive a free card, purchase $100 gift certificate and receive 20% off your next purchase, etc)
Free Shipping (or Free Shipping on orders over a certain amount)
10% Off purchase
10% Off purchase made before Dec 21st
An 'upgrade' discount
Dollar Value Discount ($10 off a purchase)
Please help spread the word to both your colleagues and your customers!