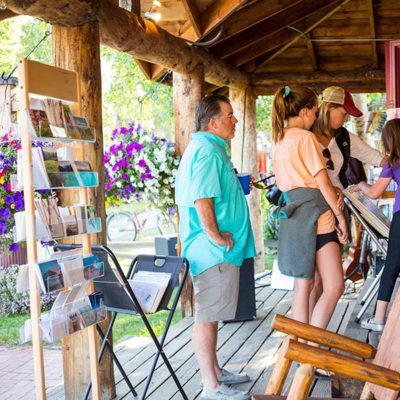 Calling Creative District gallery owners! The Crested Butte Wine and Food Festival, an annual fundraiser for the Center for the Arts, will hold an "Afternoon on Elk" on Thursday, July 25, 2019 from 4-7 pm. The event is a self-guided walking tour in which 100-150+ guests will visit 6-8 galleries on Elk Avenue, each of which will host a different Colorado winery. The winemakers will be onsite to pour samples of wine to the Afternoon on Elk guests. Colorado wineries are eligible to apply for a "Manufacturer Temporary Salesroom" permit through the state of Colorado, which will allow them to serve samples and also sell bottles of wine to guests.
Wineries and the Center for the Arts will handle all applications, permits, collection and submission of sales tax, event set up, and break down…we just need galleries with space for an 8-person table to host! Your gallery will be featured in Wine and Food Festival materials, including the printed program, Afternoon on Elk map and brochure, and Wine and Food Festival website.
For more information contact Jillian Liebl, jillian@crestedbuttearts.org.