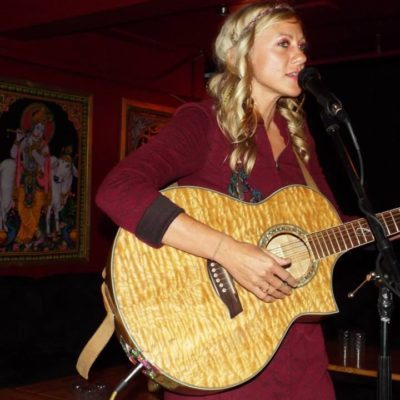 August 14, 2017 // Olivia Lueckemeyer
Creative energy is palpable in Crested Butte. Events as informal as busking on the street have been known to turn out some of the most talented musicians, not to mention the renowned artists who regularly make pit stops at the Center for the Arts to perform live.
Familiarizing yourself with the Crested Butte music scene is almost inevitable. Sounds emanating from bars and restaurants as passersby wander down Elk Avenue offer a variety of genres and atmospheres to fulfill a listener's desires. It's less of a matter of finding music than selecting which performance to attend.
Genres ranging from rock and bluegrass to jazz and country can be experienced during Alpenglow, an outdoor concert series hosted every Monday evening beginning in June and running through August. The event is free and open to the public and is a beloved fixture of the Crested Butte community by both locals and visitors alike.
A similar summer concert series takes place every Wednesday evening at the Base Area. Hosted by the Mt. Crested Butte Town Center Community Association, LIVE! From Mt. CB features a broad range of musicians and genres. Past acts have included the Dirty Dozen Brass Band and Lukas Nelson & The Promise of the Real.
For musicians searching for an even more immersive experience, there are several spots in town that are welcoming to artists who may want to perform. Establishments like Montanya Distillers, the Eldo, the Red Room and the Princess Wine Bar are known for creating an ambiance that allows guests to grab a drink while enjoying live music.
Karen Hoskin, owner of Montanya's, said the cocktail bar seeks to book acoustic musicians who  perform original material rather than covers. Live music of all genres is hosted year-round and  musicians can expect to take home 5-10 percent of the bar's earnings.  
"We love to be a part of expanding their audience and supporting their success," Hoskin said.
Another way for creatives to showcase their talents is by booking a performance during Syllables & Sound, a quarterly event hosted at the Center of the Arts. Creator Joe Knight said he began hosting the local talent showcase in December 2014 after recognizing a need in the community for creatives who wished to share their art with the public outside of the traditional open-mic environment.
"I really wanted to use the concept of an open-mic night but without the attached stigma," he said. "I wanted to have people focus their attention on the performers and the songs they have written; it's a very intimate experience, the lights are down and it's all eyes on the artist."
Syllables and Sound is not exclusive to musicians, though. Spoken word aficionados, such as poets and short story writers, are also encouraged to perform. Each performance, Knight said, is treated with professional-grade production value, including lights and sound.
"We try to promote local musicians and artists of any genre by facilitating the creation of their art with the exact same attention and detail we would give any artist that we pay to come [to the Center for the Arts]," Knight said. "It's very much a professional set-up for amateur performers."
Each performer is allotted 15-20 minutes to share their work, allowing for about six to eight artists per show. Knight said this gives creatives the appropriate amount of time to share their work.
"We limit the number of people who can perform on any given night to keep performance slots long enough," he said. "Fifteen to 20 minutes is enough time to get them up there and feeling good about it, but also short enough to keep it fresh."
All artists, both local and visiting, are welcomed and encouraged to partake in Syllables & Sound. For more information, interested participants can email joe@crestedbuttearts.org.
As a haven that attracts both artists passing through town and those who have chosen to call it home, Crested Butte has no shortage of outlets for creatives looking to get involved in the local music scene. Whether it be attending an impromptu performance or booking a live show, there is something for every musician in this corner of the Rockies.
THE CREATIVES
THE CREATIVES
FEATURED OPPORTUNITY
FEATURED NEWS
[mc4wp_form id="693″]