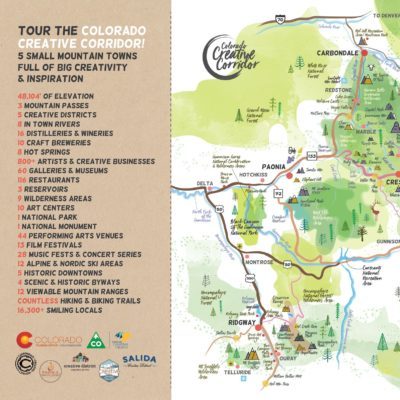 The Colorado Creative Corridor, which includes Crested Butte, Carbondale, Paonia, Ridgway and Salida, received $25,000 in matching grant funds from the Colorado Tourism Office (CTO) to promote a 331-mile route through the Western Rockies. Each of the five towns will contribute $5,000 to the marketing effort, bringing the tourism promotion board's budget to $50,000. The Crested Butte Creative District and Gunnison-Crested Butte Tourism Association has partnered on this project since the beginning, and the Crested Butte Creative District thanks the Tourism Association to keeping the momentum and funding going for this unique project.
The Colorado Creative Corridor launched in July 2018 as a collaboration of the tourism boards and chambers of the five towns. The group received the same amount of matching grants from the state a year ago, and the new funds will be used to continue the promotional efforts. That will include content development, website work, paid advertising, promotion of events and distribution of maps of the region to Colorado welcome centers.
The Colorado Creative Corridor's mission is to invite tourists to visit lesser-known recreational spots and experience mountain towns in a different way. The group developed a map of the area around the five towns, designed by Carbondale artist Laura Stover, and itineraries of suggested activities.
Crested Butte and the other four towns are designated as creative districts by the state, making them eligible for certain grants to help attract greater artistic and entrepreneurial energy. The Creative Corridor is the first collaboration of designated creative districts that have begun working together to promote tourism.
Click here to learn more about the Colorado Creative Corridor.