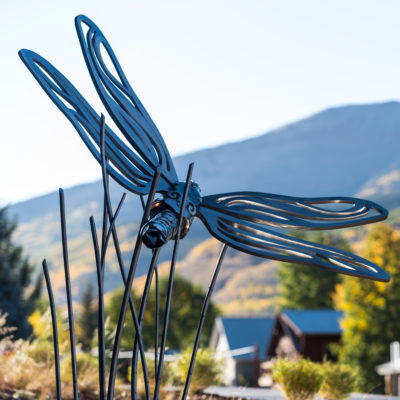 The Crested Butte Creative District is excited to announce the Town Park Sculpture Garden, located along the walking path north of the new Center for the Arts building in between Sixth Street and Seventh Street. In partnership with the Center for the Arts and the Town of Crested Butte, the Creative District received a grant from Colorado Creative Industries to fund this new and exciting public art installation. "The Center is thrilled to be home to the new sculpture garden and excited to be able to give the community a very up-close-and-personal opportunity to be immersed in artistic expression from local and nationally recognized artists," said Brooke MacMillan, the new Creative District Director at the Center for the Arts.
The Creative District is a certified Colorado Creative District with the mission of supporting a dynamic cultural economy where local creatives live, work and thrive. The new Sculpture Garden was envisioned to enhance the sense of place in the Creative District by creating new public art that provides an opportunity for local artists to showcase their work, encourages walkability throughout the Town, inspires youth engagement with the arts, and helps anchor the new Center for the Arts building in the heart of the Creative District. Following the Town's Arts in Public Places Policy, the Creative District released a Request for Proposals for one new permanent sculpture and two temporary sculptures to be featured this summer. "The planning process of the Sculpture Garden Project has been one our most successful public art projects to date. We received over 50 unique and well-crafted proposals for both the permanent and temporary installations. While the selection process was challenging among so many talented artists, a robust public process guided the Creative District Commission to select the chosen sculptures.  We can't wait for the community to interact with this incredible public art," says Nancy Woolf, Chair of the Creative District Commission.
The Sculpture Garden consists of a new permanent sculpture, called "The Spirit of Crested Butte" created by Amie Jacobsen. "The Spirit of Crested Butte," which was installed in August 2019, is a shimmering, stainless steel and colorful cast glass Dragonfly sculpture with a 5 foot wingspan. Amie's inspiration for the Dragonfly was the beautiful natural surroundings and whimsical character of Crested Butte. A Dragonfly symbolizes transformation, adaptability and self-realization. Amie Jacobsen, from Independence, Missouri, has been working in metal for 5 years, primarily in artisan furniture and sculpture. Amie is a Western Colorado University alumnus (class of 1997) and former member of the Paragon Art Gallery. She was incredibly excited about the call for artists' opportunity for this project, as she has been visiting Crested Butte since she was a young child.
The Sculpture Garden also includes two annual temporary installations that were installed this fall and will be on display again in the summer of 2019. "Wheels Go Round" by Kate Davis and "Paintbrush" by Neil Windsor are currently being showcased and are for sale in this unique outdoor gallery. "Wheels Go Round" is a playful and interactive, installation made of bicycle wheels. This installation was exhibited on Denver's 16th Street Mall during the Denver Prototype Festival, and won the 2016 Denver Mayor's Design Award for Active Spaces. "Paint Brush" is a "joyful statement of the significance of the visual arts in Crested Butte," says Neil Windsor. Neil Windsor has lived in Crested Butte for over 20 years and has a long history of figurative sculpture in various mediums including bronze, wood, clay and plaster.
To finish out the Sculpture Garden, local bronze sculptor Rosalind Cook graciously donated one of her masterpieces called "Amazed," which features a boy full of wonder playing with a frog and a turtle.  This sculpture will be permanently featured adjacent to the new pirate playground.  Rosalind Cook's sculptures are most noted for their intricate facial expressions and flowing forms, as she strives to capture and bring forth the inner spirit of her subjects and communicate to the viewer on a personal level. Rosalind Cook moved to Crested Butte in 2014 and you can find more of her bronze creations on Elk Avenue (in front of Lil's and at the Crested Butte Mountain Heritage Museum) and at the Mountain Wedding Garden.
As Americans for the Arts states, "Whatever the form, public art instills meaning—a greater sense of identity and understandings of where we live, work, and visit—creating memorable experiences for all." The Creative District hopes that everyone enjoys this new community amenity and that these unique sculptures inspires us all to unleash our own creativity.
Do you want to see more public art in Crested Butte?
Photos taken by Xavi Fane