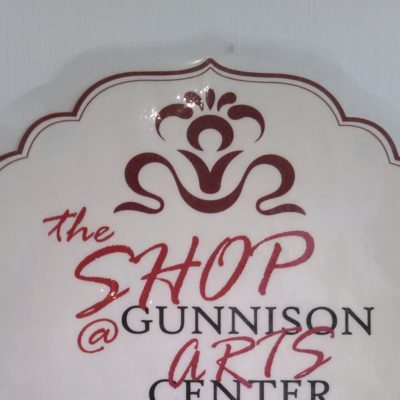 Gift idea:
Holiday Market Bazaar
The popular annual Holiday Market Bazaar is back this December and is one stop that must make your shopping list! The Holiday Market will be featured in the Main Gallery beginning on Tuesday, December 5th and open during GAC open hours until December 22nd. This Bazaar is full of wonderful and unique handmade gifts and art created by local artists at all price ranges. It's a gallery-wide event featuring various mediums from paintings to pottery and jewelry plus more!
The Shop at the Gunnison Arts Center
The Shop at The Gunnison Arts Center is a colorful assemblage of beautiful artwork and creative gifts created by talented local artists. The purpose of The Shop is to offer an affordable place for visitors and community members to purchase local art at the Gunnison Arts Center. It is an opportunity for a group of local Artists to cooperatively and professionally display their work for sale. It will not seek to rival or copy what is being exhibited in the Main or Upper Galleries where other artists are showing. The intent is to make it a popular, accessible and affordable place for our local community as well as profitable for the GAC. Come to The Shop to purchase holiday, birthday, and anniversary gifts. Affordable, relevant offerings include: pottery; photography; paintings; jewelry and more!
Best way to purchase this gift: Retail Location, Email, Phone, Website
Last Day to Claim this Gift Idea: December 22
Contact:
Gunnison Arts Council
(970) 641-4029
carlie@gunnisonartscenter.org
102 S Main St, Gunnison, Colorado 81230
http://www.gunnisonartscenter.org
THE CREATIVES
THE CREATIVES
FEATURED OPPORTUNITY
FEATURED NEWS
[mc4wp_form id="693″]