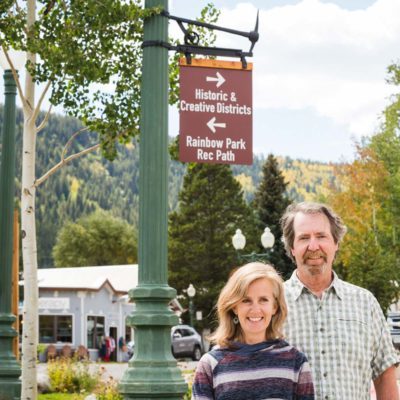 Wayfinding Signage
"The new wayfinding signs blend form and function, catching people's attention and leading them to their intended or yet-discovered destinations". -Bob Nevins (pictured center), Town Planner
The Town invested over $77,000 to create a comprehensive wayfinding signage program that builds upon the history and unique sense of place in Crested Butte. The Crested Butte Creative District, the Town and BOZAR worked together with local designers Margaret Loperfido (pictured left) and Keitha Kostyk (pictured right) to design the wayfinding signage in a way that would fit the context and character of the Town and Historic District while featuring artistic elements that are consistent with the character of the Creative District. Additionally, Ira Houseweart from Hotchkiss, Colorado and Sign Guys and Gal from Gunnison, Colorado were chosen to manufacture the brackets and signs.  The Creative District is excited to see the wayfinding signage in place and hopes that visitors and locals alike will be encouraged to utilize the signage to walk their way through town while enjoying the history, creativity and unique character of Crested Butte.
Destination Signage
Earlier this year, the Town and Creative District released a request for creatives for new and unique destination signage for iconic Town Parks and landmarks. Through this project, the Town and Creative District hoped to engage local creatives to enhance the creative spirit of the Town of Crested Butte. Unlike the Town's comprehensive wayfinding signage project, which uses a uniform design aesthetic, the Town and Creative District wanted to install one-of-a-kind signage at specific Town landmarks. The Creative District selected Sarah Schmidt (pictured above) to create the Three Ladies Park and Creative District signs, and Bill Tintera to create the Totem Pole Park sign.
The Crested Butte Creative District recognizes the value in shopping locally and paying our local creative community for community projects—including our new wayfinding and destination signage. Are you looking for a new sign, a custom set of shelves, or the perfect piece of art for your home? The Creative District encourages you to shop locally and creatively by utilizing our directory of local creatives at https://www.cbcreativedistrict.org/our-creatives/.