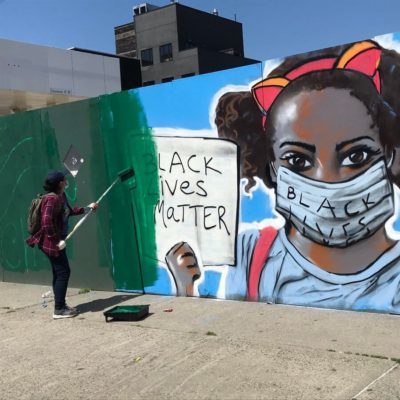 To read the full article online, click here!
Local artists paint new murals in Crested Butte and Montrose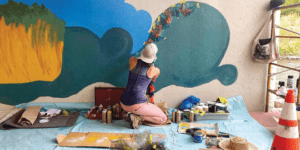 By Kendra Walker
Public art often reflects the heart and soul of its community, and that certainly applies in this town. Whether your favorites include the brightly painted buses, the shiny chrome sculptures, the Crank's Plaza Spearchucker or even the rainbow-colored buildings, the public art around Crested Butte illustrates the historic and quirky character we all hold dear. And recent mural art popping up in the area demonstrates just how important public art today can be as a voice for a community's ideals.
"Public art has historically represented the values of a community, and it's telling to see Crested Butte embrace public space for public art," says local artist Heather Bischoff.
Bischoff, whose murals can be spotted around town, including the cat and dog Mountain Express bus and in the Third Street public restroom lobby, advocates for public art and the opportunity it presents—to express a community's desires and beliefs.
And even though the most recent public painting addition in town is not the most artistic in design, the new Black Lives Matter street painting on Elk Avenue does just that: supports the community's desire to become more welcoming, diverse and inclusive.
Another new mural coming to life in Crested Butte can be found at the concrete wall directly in front of the old Center for the Arts. Local artist Narda Lebo has been commissioned by the Center to paint the mural and has been working on the painting for the last nine weeks.
"It's the first big thing besides the school when you come into town," says Lebo about the Center, recognizing the importance of capturing the community in this piece. "I think that community art is very important to people on a very internal level. I wanted to give people in the community, whether they're artists or not, something that makes them feel better. It's a visual thing that makes you feel happy," she says of her mural, titled "Be Inspired."
Lebo based her design not only on the Center's architecture that takes inspiration from the town's surrounding scenery and history, but also on what inspires her about Crested Butte. "The forest, the mountains, the flowers—it's just an explosion in your face all day long," she says.
Lebo also hopes her mural will inspire people to get involved in the Center's activities. "I want this to feel worthwhile to the community, and encourage an artist to have a place to do their work, motivate a local to take a class or inspire a sponsor to go to a performance inside."
The mural's focal point is on a musician playing the trumpet. "The trumpet is a metaphor or symbol for the expression and communication of the artist's craft," Lebo explains. Mt. Emmons' Red Lady stands in the background while whimsical objects and wildflowers pop up all around the landscape. "The mural image reminds us about how we fit into our vast and generous and beautiful environment," Lebo adds.
The mural covers approximately 85 feet by 13 feet, and Lebo says she is about 85 percent complete, planning to finish before the snow arrives. "At this point I just have to stitch the whole quilt together," she says.
But she's enjoying taking her time with the mural, as the location has welcomed lots of encounters and interactions with the community. "Kids come by after school with their skateboards and boom boxes and it's a blast," she says. "It's a really fun place to work."
"Go With The Flow"
Bischoff's current project, "Go With The Flow", is a 700-square-foot outdoor mural on the West Main Street underpass along the Connect Trail and the Uncompahgre River in Montrose. Her design captures a fish-eye view and cross-section of the local river environment; incorporating native fish species and local flora, a kayaker and viewsheds of the nearby San Juan Mountains. The mural is designed not only to beautify the concrete infrastructure of the underpass, but also to reinforce the message of environmental stewardship in multi-use spaces.
"The mural is a constant reminder to the people who spend time there to pause, recognize and remember that you are attached to the environment and you have to take care of it," says Bischoff.
Bischoff, working right alongside the recreation path, daily encounters people walking, biking and fishing, and says she's learning directly from the community. "People are fishing right next to me, showing me their catch and I'm taking photos to capture the fish's features and colors in my painting. I really feel so blessed that I'm channeling the environment directly into my work because it's happening all around me as I paint. That's a beautiful aspect of working outside."
Bischoff has also held several community paint days, inviting the public to participate in painting the mural with her. "There's this level of buy-in and ownership when you involve the community, which is why I do these community paint days," she says. "Just like a trail building day with CBMBA [Crested Butte Mountain Biking Association], you remember the work and energy that you put into it and you have a special connection and ownership to that environment."
Several Crested Butte artists have also assisted Bischoff with finishing touches on the mural, including Emily Harper and Sarah Schmidt, who is a featured RedLine Gallery artist and painter of the Crested Butte Creative District sign.
Bischoff also tries to incorporate sustainable practices into every aspect of her work, looking to her surrounding environment for art supplies, incorporating recycled materials and repurposing trash she finds near the river. "I'm often literally pulling trash from the environment—netting from the river and old fishing lines—and using it as a stencil with my aerosol layers. I'm constantly thinking about the environment so I'm not accumulating excessive waste."
Additionally, Bischoff tries to source all of her painting materials from local stores and to buy directly from sustainable paint suppliers. She uses a solar system for power and even rides her bike and paddleboards when commuting to the site. "I do my best to have minimal impact every step of the way," she says.
Bischoff is currently working on finishing touches and plans to complete her mural sometime this month. There will be a dedication ceremony at the mural site on October 17 at 3 p.m.
Opportunities for growth
Both Bischoff and Lebo see opportunities to grow public art in the greater Crested Butte community.
"I would love to see art in more alternative spaces," says Lebo. "I really think that people are attracted to that, and I think it's really exciting for the artist to create alternative art in alternative spaces. People love seeing what happens when you splash paint on the wall. It also allows people who don't have artistic sensibilities to participate and interact as well."
Bischoff hopes Crested Butte will continue to utilize public art. "Even though we are a Creative District and have a massive population of creatives here, it's not really at the forefront in town," she says. "Just because we are a small, historical town and not an industrial landscape doesn't mean we can't have more murals and public art. It doesn't have to be historic versus creative—those can coexist."
Bischoff also believes public art can be a responsible approach to utilizing a public space that would otherwise receive wear and tear. "A big, exposed concrete wall can become this work of art for the public to love rather than leave it vulnerable to scribbles and vandalism."
Both Bischoff and Lebo agree there's also opportunity for Crested Butte to collaborate more with different communities.
"Here in Crested Butte I think artists express a lot of nature. All of that is really important but I would love to see more artwork from more urban areas come here," says Lebo. "I know that Crested Butte is getting a lot of influx from urban areas so I think a collaborative way of bringing in urban art might be really good."
Working in Montrose, Bischoff finds it important for Crested Butte and other towns along the Western Slope to recognize how they are all interconnected. "If I go travel or go biking in Fruita, I might go grocery shopping in Montrose before heading back to Crested Butte," she says. "I'm trying to recognize how we're all connected, especially in public art. We have all these creative districts, and murals help make these communities unique. I'm excited to do more collaboration with the regional art community. We should be broadening our view and connecting our resources across the Western Slope."