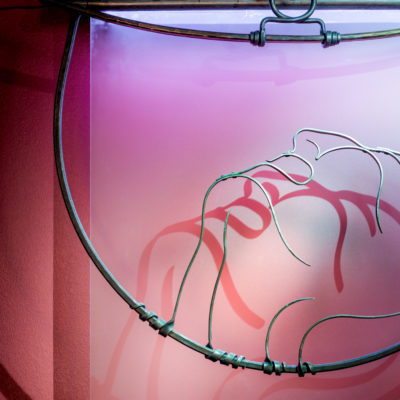 Artist: Ben Eaton
Location: Mallardi Theatre, corner of 2nd St. and Elk Ave.
Medium: Forged steel
The Town of Crested Butte was only four years old when tragedy struck early on the morning of January 24, 1884.  On that cold morning, a massive explosion (likely caused by 'fire damp', the term used for methane gas mixing with air and coal dust) ripped through the Jokerville Mine, killing 60 men. The impact was heart-wrenching for the four hundred hearty souls who called the town home, as well as the additional 1,000 miners residing in camps nearby.  At the time, the Jokerville Mine explosion was the worst mining disaster ever in Colorado.  Today, it stands as the state's third most deadly.
Jokerville was forged by local blacksmith and sculptor Ben Eaton to honor the men trapped in the mine on that fateful day. The hanging piece is what Ben describes as 'Line Art', which is basically an image broken down to its simplest elements.  The ever-changing elements of light and shadow play an important part of the artwork and undeniably add to the moodiness of the image.  Some historical accounts state the victims were brought to the Town Hall (now the Mallardi Theatre where the artwork hangs) as a temporary morgue.  Others say they were laid out in a local blacksmith's shop.  The truth lies buried with time, but either way it seems appropriate that Ben's powerful sculpture exists to pay tribute to the victims.
In June of 2017, the Crested Butte Creative District and the Town of Crested Butte developed and passed an Arts in Public Places (AIPP) policy.  The policy specifies that 2% of any capital project in the Creative District or a Town Park shall be dedicated to the creation of public art.  Jokerville is the inaugural installation utilizing the AIPP.
Ben Eaton uses traditional blacksmithing tools and techniques to create his sculptures and functional ironwork. More info is available at www.getbentllc.com.