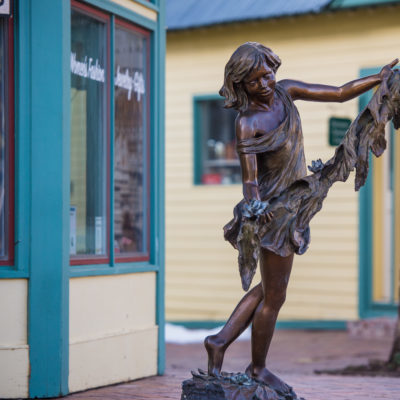 Artist:  Rosalind 'Roz' Cook
Location: 300 block of Elk (in front of Lil's Restaurant)
Medium:  Bronze
Lillith dances through all kinds of weather, gracefully shepherding passersby on Elk Avenue.  Though at times she may be surrounded by snow, she embodies youthful joy as her bare feet step forth from a base of lily pads. Generously donated to the Town of Crested Butte in 2015 by Rosalind Cook, Lillith was inspired in part by a visit to Italy, where Roz studied the works of the Renaissance masters.  Reflecting that style, she strove to incorporate elements of swirling motion and flowing draperies. It makes sense that Lillith was originally designed for water to trickle from her upraised hand and down the graceful moss garland of water lilies.  Unfortunately, Crested Butte's extreme climate makes that an impossibility.  Despite this, one can still feel the fluidity and movement of water in Lillith's graceful pose.
Roz's sculptures are most noted for this flowing aspect and for their faces, as she strives to capture and bring forth the inner spirit of her subjects and communicate to the viewer on a personal level.  She states her true purpose is to celebrate life and to lift the human spirit, and as one looks at Lillith this objective becomes apparent.  The fact that children often stop in their tracks to gaze at the dancing figure, and that dogs have stopped to bark at her, shows the measure of Roz's success in her goal!
Creating a bronze piece involves a complicated five-step alternating positive/negative process, including clay, rubber, wax, and finally bronze.  It takes months of both studio and foundry time to bring a sculpture to fruition. Roz has two other permanent local pieces as well:  Gratitude can be found at the Mountain Wedding Garden in Mount Crested Butte, and Divided Attentions is visible at the Crested Butte Mountain Heritage Museum.
Rosalind Cook's sculptures range in size from eight inches to monumental, and are found all over the world in both private collections and public installations.  She enjoys using children, religious figures, and people of various cultures and races as her main subjects.  She is also an educator and writer.  Her work is visible at the Redline Gallery, 429 Elk Ave., and more information is available at www.rosalindcook.com.