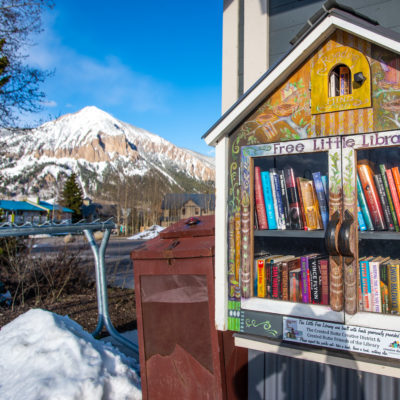 Artists: Alex Riedman/ Rob Lindsey/ Kate Seeley/ Levi Rugheimer
Location: Bus stop at the 4-way stop
Medium: Wood, Glass, Paint, Metal, Books!
What better time to browse through a selection of books than while waiting for a bus? That's what Alex Riedman, an employee of the Crested Butte Library, thought when she became aware of the opportunity to receive a grant through the Crested Butte Creative District for a project.  She gathered a talented collection of local artists and the CB Little Free Library opened its mini-doors in May 2018.
Neighborhood book exchanges aren't a new thing, but the movement began to gain strength in 2009, when Todd H. Bol of Hudson, Wisconsin built the first Little Free Library in honor of his mother, a schoolteacher and lifelong reader.  In 2012, after seeing how the 'take a book, share a book' concept resonated with his neighbors, he co-founded a non-profit with the goal of inspiring readers and strengthening communities.  There are now more than 80,000 registered Little Free Library book exchanges around the world in 88 countries.
The CB Little Free Library symbolizes community on many levels.  It was indeed a group effort, as Alex's vision was brought to fruition by a wonderful team of craftspeople.  Its construction was the work Rob Lindsey, who coincidentally already had a connection to the Little Free Library movement.  Hailing from a family of librarians and readers, he and his family had spearheaded the building and placement of libraries across the country in honor of a young cousin who had passed away.  Kate Seeley's whimsical artwork provides the perfect background for books that hold such promise of exploration and adventure.  Levi Rugheimer crafted the door handles.
Alex's hopes were for a community resource, available to young and old, visitors and locals alike.  There is something special about finding or leaving a book at this little library…not knowing who placed it or who will next read your treasure!
Want to create a library in your community?  More information about the movement is available at www.littlefreelibrary.org