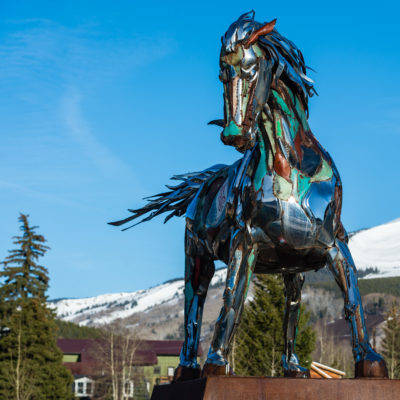 Artist: Sean Guerrero
Location: 517 6th St. (Across from the Center for the Arts)
Medium: Chrome
"Horses represent freedom, power, and beauty," states Sean Guerrero, the artist responsible for the majestic beast that welcomes people to the town of Crested Butte.  Mane and tail flowing, chrome muscles bulging, it seems to propel itself right off of the pedestal upon which it is mounted.
This sculpture is truly a local creation, for the majority of the pieces in the Pepsi Horse came from the Rozman ranch, located just down Highway 135.  Homesteaded over 100 years ago, the ranch is still in operation today.  It's an important part of Gunnison Valley history, where stories of hard-working ranchers and their horses abound. "The old cars were horsepowered beasts of a different sort," states Sean, so the transformation seemed somewhat natural.
However, there's more to the story. An unfortunate event with corporate America left Guerrero cynical about branding and marketing.  Since the age of 14 he'd held onto a Pepsi sign he had salvaged from an old ice machine and suddenly its destiny became clear.  He embedded it in the flank of this noble beast, thus cross-pollinating the idea of marketing with creativity; of corporate branding versus the branding ranchers of yesteryear employed; of mainstream America versus that which is untamed and wild.
Thanks to the generosity of four second-homeowners who pitched in to purchase the artwork to donate to the Center for the Arts, this beautiful and thought-provoking symbol will remain in the Gunnison Valley for years to come.
Learn more about Sean Guerrero here.