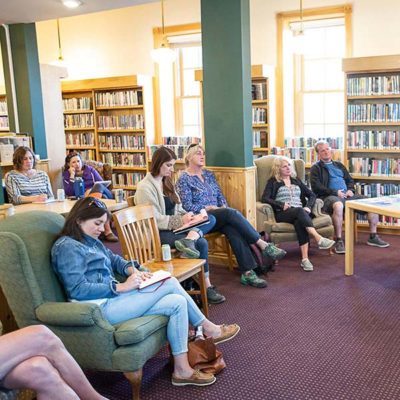 For visual artists, writers, musicians and anyone in the professional realm to craft a compelling bio and photography package for use with websites, gallery showings, publications and other venues. Through instruction, guidance, exploratory creative exercises and research on existing effective and inspirational biographies, artists workshop aspects of their career into a cohesive and effective bio that expresses their personal and professional endeavors. Supportive peer review from instructor and fellow participants provides valuable feedback. 
Additionally, learn basic requirements for choosing quality and size-appropriate photos for both digital and print outlets. Participants leave the workshop with a completed bio and professional photo shoot for an artist headshot. Supplementary editing and photo shoot services available from the instructors after course completion for an additional fee. Geared to artists, but any profession is welcome. 
In partnership with the Crested Butte Center for the Arts Literary Arts Department, this course is generously subsidized by the Crested Butte Creative District to make this professional development opportunity low-cost for artists and community members. While the course value is $200, participants only pay a $25 administrative fee. 
Instructor: Molly Murfee 
When:  January 14 & 21
Time:  5:30 – 8:30 p.m.
Cost:  $25 for both days