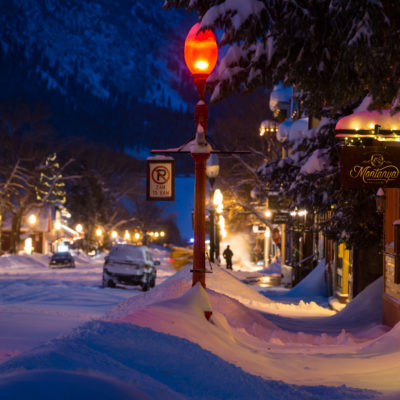 Artist: Jeremy Rubingh
Location: 200 block of Elk (in front of Montanya Distillers)
Medium: Paint, Lightbulb, Plaque
Mount Emmons, at 12,343′ elevation, stands as a sentinel above the Town of Crested Butte.  Known locally as the Red Lady, the mountain has been the focus of decades of activism, as local environmentalists have fought to keep it free of a molybdenum mine.  The idea for a sculptural installation project that would "create an interactive opportunity to engage the public as well as contribute to the uniqueness of our small, creative, and environmentally-minded village' was the brainchild of Jeremy Rubingh, a local activist and filmmaker who has been deeply involved with the Red Lady's fate.
One of his goals is to inspire people to think about how everyday public amenities can be turned into thought-provoking pieces of art. So, in October of 2016, Rubingh painted the lamppost and installed a red light bulb and plaque.  In contrast to all the other green posts, this unique red beacon serves as both a reminder and a public engagement point on the value that the community places on protecting the local watershed and environment.  Observant and curious passersby can read a small informational sign documenting the history of the issue and, if positioned correctly, can see the Red Lady Bowl framed behind the post.  Red Promise creates a subtle yet powerful link between a mountain and the town that loves it, as well as providing an opportunity for visitors to learn a bit about Crested Butte history.  This project was one of the first projects funded by the Crested Butte Creative District.
Jeremy Rubingh is an artist and activist residing in Crested Butte and spends most of his time working on creating art and images to inspire and reduce our footprint on Earth.  More info available at www.maukaproductions.com.