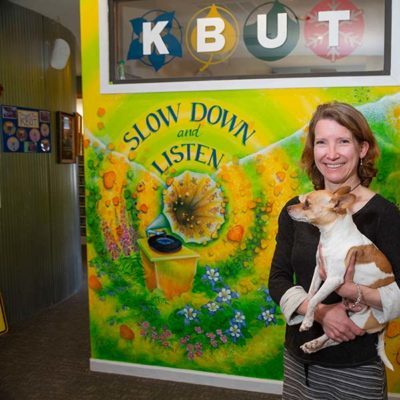 Featured Photo: Lian Canty posing with her mural at the KBUT office. Photo by Lydia Stern. 
The Crested Butte Creative District is requesting proposals from local creative individuals for the creation of a one-of-a-kind mural or wall art installation for the common room at the 308 3rd street public restrooms.
The Creative District is seeking an installation that will enhance the available space and unique sense of place in downtown Crested Butte. Interested applicants are encouraged to check out the space (a copy of the RFP is posted on the wall) to inspire their creativity for their proposal.
This is a PAID opportunity. The budget for this project is $3,500, including materials.
Proposals are due on September 28, 2018.
Please contact Mel Yemma, Creative District/Open Space Coordinator at the Town of Crested Butte at melyemma@crestedbutte-co.gov with any questions or to submit your proposal.