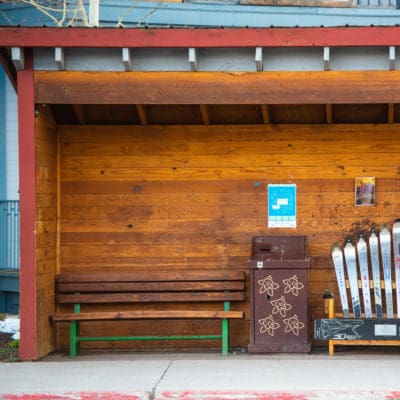 Artist: Josh Legere
Location: RTA Bus Stop (in front of the Alpineer, 419 6th St.)
Medium: Recycled mono-ski, Volant skis and bindings, Wood
It's a difficult statistic to pin down but, according to one source, there are 7 million skiers in the United States, who purchase 600,000 pairs of skis a year.  If you take that statistic a step further, it's almost mind-boggling to think how many skis (let alone snowboards) are sitting in garages and attics across the country, and that's just in the U.S.A.  It became apparent to Josh Legere of Paradise Ski Chairs that the number of skis and snowboards going to the landfill simply in the Gunnison Valley was staggering.  So he decided to do something about it.
What began as a recycling challenge soon became art, as demonstrated by the comfortable and aesthetic Adirondack-style bench at the down-valley bus stop. Legere received a grant from the Crested Butte Creative District in 2017 to build and donate this fine community amenity.  Alpine bindings provide perfect cup holders, and the palette of designs and colors on the previously-loved boards are pleasing to the eye. What better place to rest, watch the world go by, and wait for the bus after a hard day on the slopes?!  Keep your eyes open…you may spot more of Josh's creations on the sidewalks of town or in local residents' yards.
More information about Josh's work can be found at www.paradiseskichairs.com .  Their sustainable line of products has expanded to included hat/coat racks, bottle openers, tables, and more.