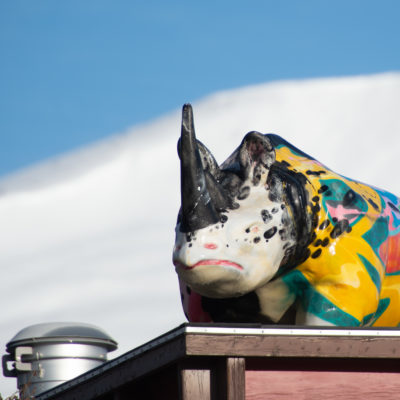 Artist: Unknown
Location: Ace Hardware, 607 6th St.
Medium: Fiberglass, Paint
Did you notice? You are being watched as you enter and leave town.  On the corner of the Ace Hardware building, perched with an authoritarian air, is…a multi-colored rhinoceros. His stern and taciturn appearance belies his festive introduction to town.
In September of 2014, Crested Butte was host to a wild takeover when Anheuser Busch rolled in to create 'Whatever, USA'.  Over 1,000 revelers were flown in and plied with Bud Light beer.  The streets (and more) were painted blue, and hot tubs were set up on Elk Avenue along with a giant gorilla, a life-sized chessboard, a human bowling alley, and more.  Amongst the (controversial) mayhem were six randomly-placed painted rhinos.  After the festivities, it seems two went missing and three were reclaimed by Anheuser Busch.  And the sixth?  Shelley Shanks Lockwood, a local artist, was determined to purchase one, so she went rhino hunting.  Through perseverance she succeeded.  That rhino had traveled to Houston, where he survived Hurricane Harvey. But eventually Shelley realized he belonged back in Crested Butte.  The guys at Ace Hardware recognized a fine mascot when they saw it and, thanks to Shelley's donation, he found a new home.  Though no one knows who actually painted the horned mammal (an artist from Chicago, rumor has it) he seems secure and well-adjusted in his airy location.