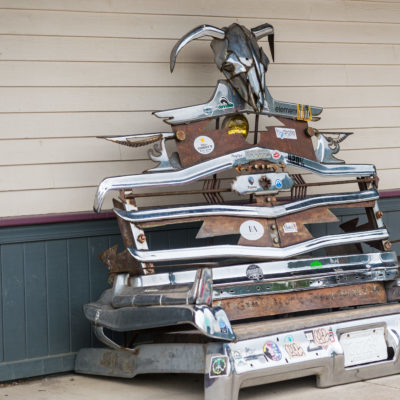 Learn more about Sean Guerrero: 
Sean Guerrero states:  "I remember as a kid I was always fascinated by the look of the cars that were built in the 1940s, '50s and '60s. The shape and design gave each one its own personality. I never would have imagined that I would one day make a living off of them the way I do. Using cut-up sections of those old brilliant chrome bumpers, I reshape and weld their pieces into larger-than-life sculptures, preserving their essence."
Sean is a sculptor and filmmaker who lived in Crested Butte from 1991 to 2001.  He truly changed the nature of public art in this small mountain town.  Many of his unique sculptures remain on display and have provided visitors and residents with inspiration, laughs, and a sense of awe for years.  Sean now calls Paonia, Colorado home after living in numerous locations around the world.  "I needed a cave in which to create," he states, and so when an old fire hall became available he jumped at the opportunity to settle there.  It's an impressive space filled with materials of all sorts, just waiting to be absorbed and transformed into new life.  "I strive to give [the old cars and other found pieces] back their dignity through a reinterpreted form of physical artistic expression," says Sean.
Enjoy his creations throughout town, including the Knight and Dragon, the Pepsi Horse, the Eagle head, Thunderbird, and the rotating sculpture garden at Mabuhay on the corner of 4th and Elk.  You may also happen upon some of his creative benches as you move throughout town…take a load off and watch the world pass by!  Do as Sean does:  "I think about the tales the cars might tell from their hey-days. I can imagine the first day they rolled off the lot just purchased by someone who scrimped and saved to finally buy that brand new, shining, big powerful machine."  What roads did that chrome travel to come to rest on the sidewalks of Crested Butte?
Guerrero's chrome deer graze in Maryland and his chrome horses gallop throughout the Midwest and the Carolinas.  There are mares with colts by their sides grazing in numerous states.  Sean gifted Neil Young a chrome buffalo head, which has accompanied the famous musician on stage.  An eagle with a 13-foot wingspan protects a Sedona, Arizona jewelry store. Over 100 of his unique benches offer a place of repose throughout the country.  The da Vinci Fish, a giant flying fish sculpture made from an airplane fuselage, rotates above the Salton Sea in the community of Bombay Beach, CA. What's next???
More info about Sean and his work can be found at www.chromesean.com or on Instagram @chromeseanart.