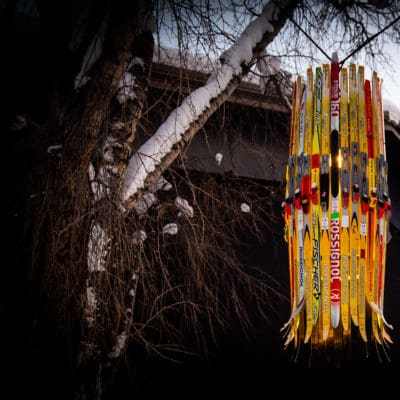 Artist: Jeff Scott
Location: Crested Butte Nordic Center/Big Mine Arena, 620 2nd St.
Medium: Nordic skis, Bike Rim, Light bulb
Jeff Scott says that the bottom line is:  "I just like to light s*** up!"  Indeed, it all started almost 20 years ago with his design of a glow-in-the-dark flying disc so that he and his friends could play Ultimate Frisbee after work.  The passion for illumination grew and morphed.  Dog collars, bicycle spoke lights, lacrosse balls, the list goes on…there are products for both safety and fun.  As recycling and re-purposing became more of a focus, Jeff eventually created a manufacturing shop in Crested Butte called the Idea Launch Lab.  The space is jam-packed with materials ranging from piles of organized bike parts (collected from everywhere) to 30,000 high-grade aluminum tent poles (purchased from an outdoor company undergoing changes) to sheets of lightweight maple veneer plywood (that didn't make the 'cut' for a Colorado puzzle maker) and more.  Those supplies share space with a 3D printer, laser engraver, and other high-tech machines.  The possibilities are endless.
So what about the Nordic Chandelier?  Originally Christie Hicks, director of the CB Nordic Center, approached Jeff about upgrading the tiki torches that light the way for skiers attending events out at the backcountry yurt.  One thing led to another and, as a pile of destroyed cross-country skis grew, inspiration struck.  Jeff noticed that the hole pattern in a specific bike rim would provide the perfect framework to hang the skis from. By adding a light bulb, the chandelier was born from the well-loved skis. The location is temporary, but the hope is the chandelier will be joined with others when the new Nordic building is constructed.
Jeff Scott is an inventor-designer-tech guru and founder of the Idea Lab in Crested Butte.  Visit www.flashflight.com to view the huge assortment of illuminated products.