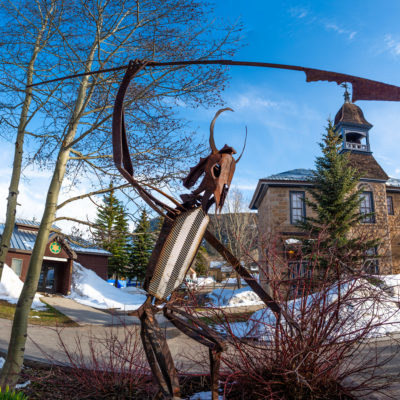 Artist: Andy Bamberg
Location: Crank's Plaza (by Town Hall), 507 Maroon Ave.
Medium: Metal (recycled)
A mysterious presence dwells in Crank's Plaza.  This somewhat menacing figure threatens to impale the casual book lover headed to the Old Rock Library or the innocent toddler heading to music class downstairs at the Town Hall. Spear poised overhead, vacuous eyes staring from a horned and rusted skull–his prey is left to the imagination.  Though the sculpture's body is constructed from an ingenious combination of recycled metal parts, there seems to be spring to his step.  Watch out!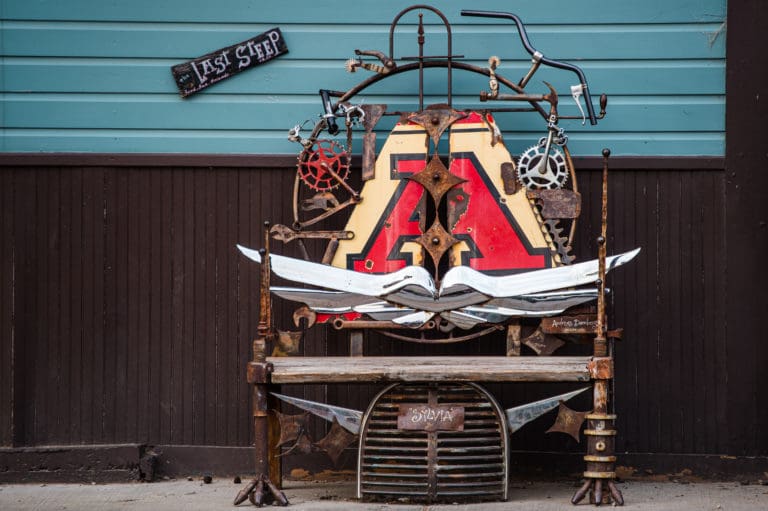 Spearthrower is testimony to the creative genius of Andy Bamberg, a beloved Crested Butte artist, philosopher, and lover of life, who passed away in 2009. Andy's legacy lives on in the green metal benches that grace our town's streets; in the custom-angled bike racks that provide parking; and in the memories of those who followed his numerous Grumps down Elk Avenue on their way to be burned during the annual fall Vinotok bonfires.  The world was Andy Bamberg's art gallery.  Ever creative, always kind, it's been said that Bamberg's greatest gift was that as a man and an artist he knew the portrait of ourselves we all wished to see. The whimsical bench located by the Last Steep Restaurant was built in Andy's memory by Sean Guerrero. Most of the parts used in the bench came from his shop by the old town gas pumps.
He was prolific, and the story is that years before the plaza was even christened (named for longtime town manager Bill Crank), Andy was looking for a place for this sculpture to reside.  Though it was admittedly a representation of the darker side of his existence (Bamberg struggled with diabetes and related health problems), the Town staff welcomed the piece and the plaza was built up around it.  Known as 'Sawback' to some, 'Spear Thrower' to others, part of his allure is his mystery.  We'll never know where Andy found all the random parts that so harmoniously created this hunter.  We don't know what it is he's seeking, or if his horns are meant to symbolize strength, or virility, or a relation to a witch doctor or shaman. So…take a seat for a moment under his powerful stance and see what message Spearthrower might have to convey to you.