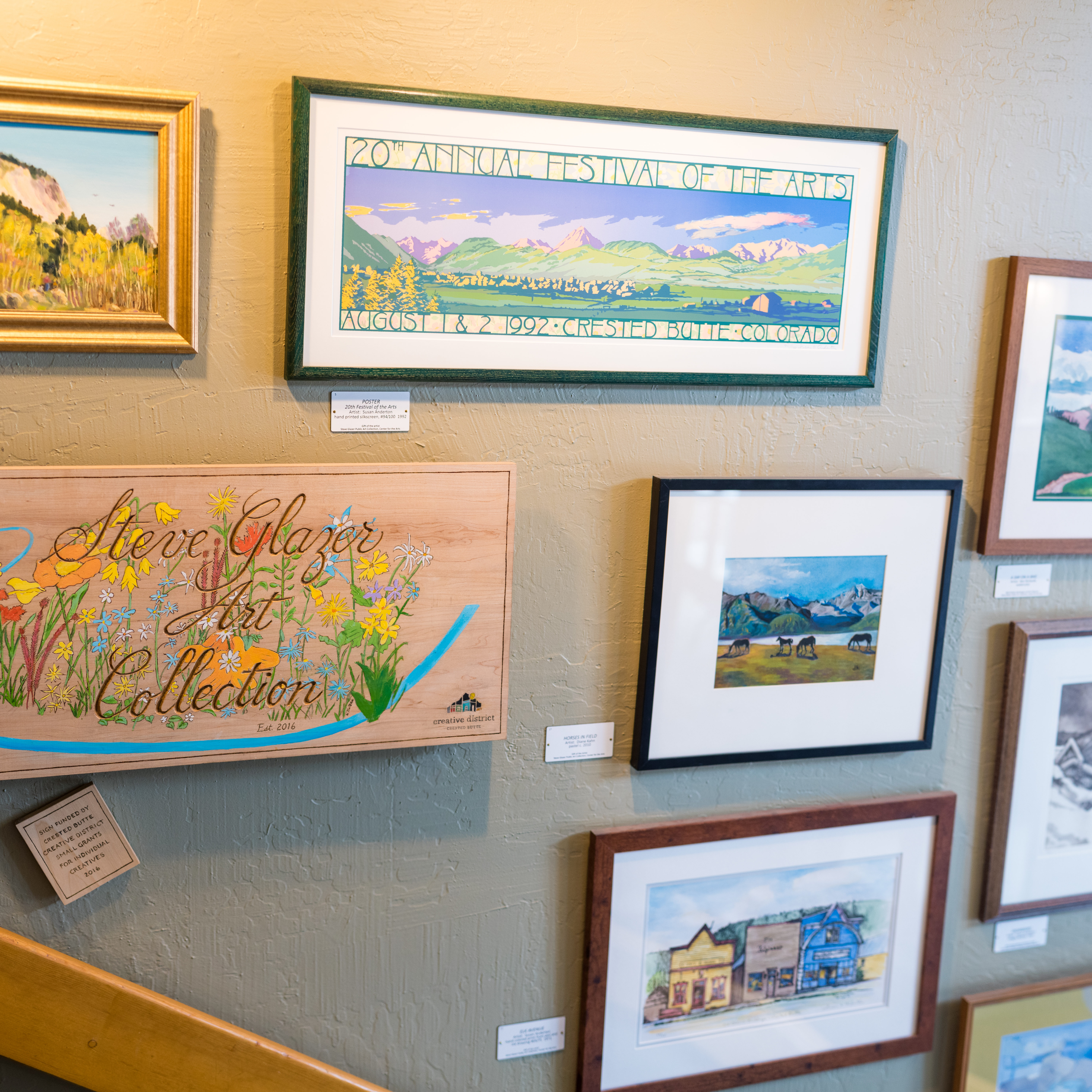 Location: Crested Butte Center for the Arts, 606 6th Street
Medium: Various Mediums
In 1969, Crested Butte was remote and rustic —still imbued with its mining heritage, slow to transition into its new role as a ski town.  Though opportunities were limited, spirits were free, and when Steve Glazer arrived that year he embraced all the town had to offer.  He was an early supporter of the Crested Butte Mountain Theatre (formed in 1972); acting, running tech, and managing the fledgling organization.  He owned and managed the Princess Theatre, offering avant-garde movies and many other unique experiences.  He helped start Earth Station Radio (now KBUT Community Radio) and helped create the Crested Butte Bank (now Bank of the West) in 1979.  For the last 25 years of his life, he was one of the Gunnison Valley's most vocal activists surrounding water issues.
But his love for the arts never died, and it was a passion that he and his wife Diana Graves had always shared.  Unfortunately, after years of fighting tirelessly for clean water and water rights, Steve fought his own long battle with cancer.  While he was sick, Diana began to ponder how she could keep his memory alive in town.  In the final moments before his death, she realized how: by creating a public art collection.  She recognized that although Crested Butte wasn't really big enough to have a museum, a collection of art could be just the right fit.  So she committed to the idea.  The first three pieces were donated at his celebration of life and monetary donations were received as well.  The collection grew, and now stands at 30 eclectic and inclusive pieces, mostly by local artists.  Through a Crested Butte Creative District grant, Bill Tintera (a friend of Steve's) created a hand-hewn sign, which officially united the Steve Glazer Memorial Art Collection.
Many of the pieces are experimental, representing the free-wheeling era of the 70s and 80s.  It will soon be relocated from the old Center for the Arts to the new facility, where all can enjoy the timeless creativity of many artists, as well as appreciate the legacy of one of Crested Butte's most iconic residents.
More information about the collection can be found at  https://crestedbuttearts.org/Steve-Glazer-Collection.