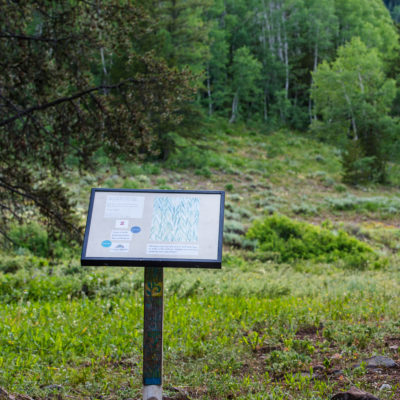 Artist: Various authors, Kate Seeley (post decorations)
Medium: Books presented in waterproof displays, Colored pencil decorations
Location: Lower Loop Trail
The Lower Loop is one of Crested Butte's most beloved trails.  Located on land preserved by the Crested Butte Land Trust, it was built in 1999 by over 125 volunteers.  It is used by mountain bikers, hikers, horseback riders, runners…you name it.  Since 2015, you can add young literary enthusiasts to the list as well, for that was the summer that StoryWalk® was launched.  Jen Hillebrandt, former Youth Services Coordinator for the Crested Butte Library, discovered the idea and presented it to the Land Trust. Given the family-friendly nature of the trail, it was a perfect fit!
The StoryWalk® project was created by Anne Ferguson of Montpelier, Vermont in conjunction with the Kellogg Hubbard Library.  The pages of a children's picture book are deconstructed and presented sequentially along an outdoor path.  The book is changed each year, and encourages its young readers to connect, imagine, and discover things about the landscape through which they're moving.
In 2017, the Crested Butte Creative District awarded funds to the project and the Library commissioned local artist Kate Seeley to "decorate the posts to mimic nature".  Her whimsical colored pencil drawings add to the appeal of the experience.
StoryWalks® are found in 50 states and 12 countries, so after enjoying the experience in Crested Butte be sure to seek them out in other locations!  "Always be on the lookout for the presence of wonder,'' wrote EB White (found on the dedication page of one of the chosen StoryWalk® books).  Good advice indeed.