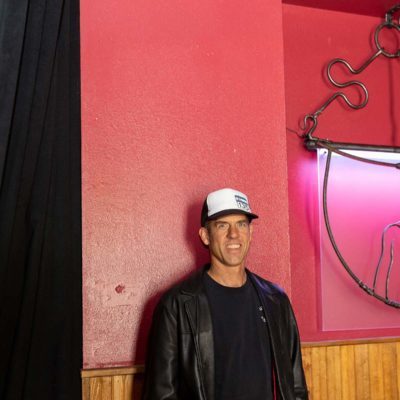 Local creative, Ben Eaton, posing with "Jokerville". Meet Ben and view his installation on October 5th at the Mallardi Theatre. Photo by Lydia Stern.
Please join the Crested Butte Creative District to view and celebrate the inaugural "Arts in Public Places" (AIPP) installation at the Mallardi Theatre on October 5th from 6 p.m. – 7 p.m.
The AIPP policy was passed by the Crested Butte Town Council in June 2017 and specified that 2% of any capital project in the Creative District or a Town Park shall be dedicated to the creation of public art.This past summer, the Mallardi Theatre was renovated, which became the first capital improvement project that qualified for funding per the AIPP. The Town and the Creative District Commission released a request for proposals from local creatives for the creation of a one-of-a-kind hanging art piece for the theatre and Ben Eaton's installation named "Jokerville" was selected.
Ben Eaton (Get Bent LLC) creates his artwork using traditional blacksmithing tools and techniques. He describes his "Line Art" as an image broken down to its simplest elements, a series of lines. These hanging wall sculptures use light and shadow to create an ever-changing image. "Jokerville," represents the tragedy of the 1884 horrific mine explosion which killed 63 men. Rescuers brought many of the bodies to Mallardi (Town Hall at the time) to serve as a temporary morgue, until they could be laid to rest in the Crested Butte Cemetery. This sculpture honors those individuals trapped inside the Jokerville mine.
The Creative District is proud to witness Ben's installation as the first AIPP installation, which additionally pays homage to the history of the building that it's located in. Please join us on Friday, October 5th from 6 p.m. – 7 p.m. to view the installation and meet the artist. Light appetizers will provided and the Mountain Theatre's cash bar will be open. Stick around at 7 p.m. for opening night of the Mountain Theatre's next show, "Body Awareness".