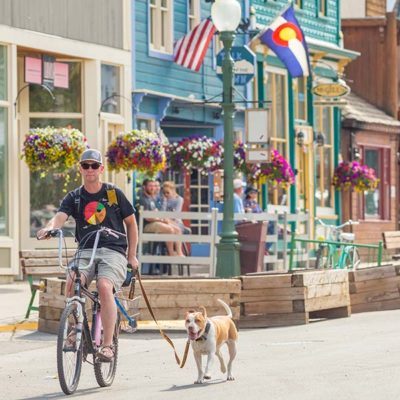 Encouraging Eco-Friendly Choices with Local Charm and Convenience 
This past fall, Sustainable Crested Butte received a "Paid to Create" grant to enhance their new water bottle filling station at the Old Town Hall Bus Stop in the Crested Butte Creative District. Check out what they have to say about their project below:
Sustainable Crested Butte was granted funding to install a water bottle filling station at the 2nd and Elk bus stop, located beside the Paragon art gallery. With Paragon being a hub for many artists, our organization thought it would be very fitting to have a local artist handcraft a donation plaque to hang above this filling station. A plain Jane metallic sign would have worked, but that didn't seem right for our creative community's potential, So, when reaching out to Paragon's artists, Bill Tintera replied eager to help. His design included our mission statement, along with both Sustainable Crested Butte's and the Creative District's logos featured upon a birch wood plaque.
We hope that this unique and eye-catching sign will increase the use of reusable water bottles in our town, as well as inform and educate the public of both of our organizations. Since we are a newer non-profit to the valley, our funds are very limited. So upon hearing of the Creative District's grant program, we felt that this idea of our sharing our mission statement through support local art could be a winner. Thanks to all who thought this sign was worthy of the Creative District's support.
Sincerely,
Kelli Jones and the Sustainable Crested Butte Board of Directors