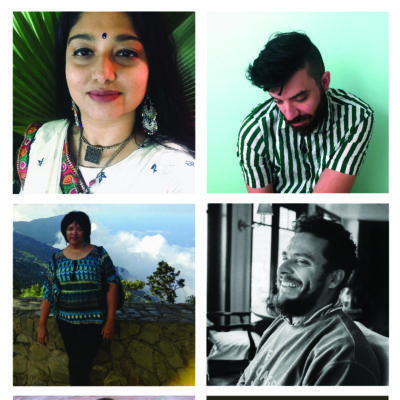 THE CENTER FOR THE ARTS
ANNOUNCES ITS MAY
"WRITER-IN-RESIDENCE" COHORT
THE SECOND COHORT INCLUDES FIVE DIVERSE, POWERFUL LITERARY VOICES
Crested Butte, CO (April 25)
Crested Butte will soon see a considerable uptick in its creative stock as five dynamic writers from across the world join the community for a monthlong writing residency in May. The Mountain Words Writer in Residence, a program of the Center for the Arts, supports emerging and established writers with the tools sacrosanct to any writer: time, space and funds to meaningfully focus on their work.
The 2022 cohort includes writers and poets from a diverse range of backgrounds and voices, including Pushcart award-winning poet Kaveh Akbar; author, prison rights activist, and Black Panther historian Dominque Conway; writer, visual artist, and bike mechanic from New Orleans Bernardo Wade; India-based fiction writer and language expert Megha Nayar; and local writer and audio producer Stephanie Maltarich.
For residency founder and Center Artistic Director, Brooke MacMillan, the program is one the most treasured aspects of her work, "We are enormously excited to host this group of incredible literary genius. Each writer represents a vital piece of the larger narrative of human experience in this unique moment in time, and we're thrilled at what we can learn from them," said MacMillan. "Our stunning environment, and warm and vibrant community is ideal setting for creative inspiration and expression, and during off-season, we're so fortunate to receive an outpouring of support from the community to host the writers in style." The writers stay in homes in downtown Crested Butte donated by part-time residents, along with enjoying perks and swag from local business.
Kaveh Akbar will spend the month working on a new novel, a departure from his tenure as one of the nation's leading poets. His poems have appeared in The New Yorker, The New York Times, Paris Review, Best American Poetry, and elsewhere. His second full-length volume of poetry, Pilgrim Bell, was published in 2021, and his debut, Calling a Wolf a Wolf, is out now. In 2020 Kaveh was named Poetry Editor of The Nation. The recipient of honors, Akbar has received multiple Pushcart Prizes, a Civitella Ranieri Foundation Fellowship, and the Levis Reading Prize.
Born in Akbar Tehran, Iran, Akbar teaches at Purdue University. In 2014, he founded Divedapper, a home for dialogues with the most vital voices in American poetry.
Dominque Conway is a Baltimore-based activist and author who writes non-fiction that embodies her lived experience as a person of African descent in the United States, and a resident of West Baltimore. Her current project, Far From The Tree is a genealogical memoir examining the impact of racism and trauma on consecutive generations of her family spanning three centuries in America.
As an activist, Conway has engaged in work addressing mass incarceration and political imprisonment in the United States. Her work with men in prisons resulted in the creation of Friend of a Friend, a prison-based mentoring program designed to teach critical thinking skills to young prisoners.
Conway has a BA from Goddard College in Plainfield, Vermont, and received an MFA from Goucher College in Baltimore in May 2021; she will pursue a Ph.D. in English at University of Nevada at Las Vegas beginning in the Fall of 2022. She is the co-author of Marshall Law: The Life and Times of a Baltimore Black Panther, the memoir of Black Panther political prisoner, Eddie Conway.
Bernardo Wade is a writer and artist from New Orleans, who will work on revising poems for his first book. Wade currently serves as associate editor of the Indiana Review, is a Watering Hole Fellow, and moonlights as an equity and justice advocate. He was recently awarded the 2021 Puerto del Sol Poetry Prize and has words in, or forthcoming in, Crazyhorse, Black Warrior Review, Guernica, Cincinnati Review and others.
Megha Nayar is a communications coach from Ahmedabad, India. She spends half her time training corporate professionals in French, English and Soft Skills, and the other half writing short stories to deconstruct the complicated experience of womanhood in modern India. She lives with her parents, grandparents, and an eccentric little pug.
Since 2019, Nayer's stories have appeared in 40+ literary magazines, among them Macromic, Trampset, Bending Genres, Out of Print, Gulmohur Quarterly and Bengaluru Review. She was longlisted for the Commonwealth Short Story Prize 2020 – her story "Don't Stay" made it to the top 200 out of 5,100 entries. In 2021, Nayar was selected for the inaugural cohort of Write Beyond Borders – a British Council-funded project offering masterclasses and mentorship to ten upcoming South Asian writers. Nayar was tutored by London-based author Amita Murray, and she is now coming to Crested Butte armed with a blueprint for her first book.
Stephanie Maltarich is an independent audio producer and writer who has lived in the Gunnison Valley for a decade. She attended graduate school in Missoula, Montana, where she earned a master's degree in Environmental Studies and Creative Writing. In her final semester, she enrolled in an audio journalism class, and from that moment, she knew producing audio stories of all types would be in her future.
Since graduating in 2020, Maltarich has produced a wide range of stories that focus on the environment, the outdoors, and social justice. Her work has aired on NPR, Colorado Public Radio, Yellowstone Public Radio and Alaska Public Media. Last summer, she spent two months in rural Alaska reporting on the Bristol Bay salmon fishery. Beyond radio, she loves producing podcasts. Her work can be heard on The Dirtbag Diaries, Out There Podcast, The Freeflow Podcast, and Climate One Podcast.
Stephanie will spend her residency producing five radio-feature stories titled Headwaters for KBUT Community Radio. The project, funded by The Water Desk, will dive into the important stories that make up our valley's important role as a headwaters community to the Colorado River Basin.
In addition to writing and enjoying the community, the 2022 cohort will present to students at the  Crested Butte Community School, and as crescendo to their sojourn, Akbar, Conway, Wade, Maltarich, and Nayar will read their residency-produced work at the Mountain Words Literary Festival on May 25 – 29. Join us in welcoming them to town Wednesday, May 4, 5:30 pm at the Center for drinks, bites, and tantalizing conversation.
More information on the residency and literary festival can be found at gvlf.org.
Any questions can be directed to:
Brooke MacMillan
Artistic Director
Center for the Arts | Crested Butte
brooke@crestedbuttearts.org
Phone: 970-349-6247